Russian army wipes out Ukrainian depots in Dnipro
Ukraine intercepts 15 out of 18 missiles as Moscow launches strikes apparently designed to hamper Kyiv's plans for a counteroffensive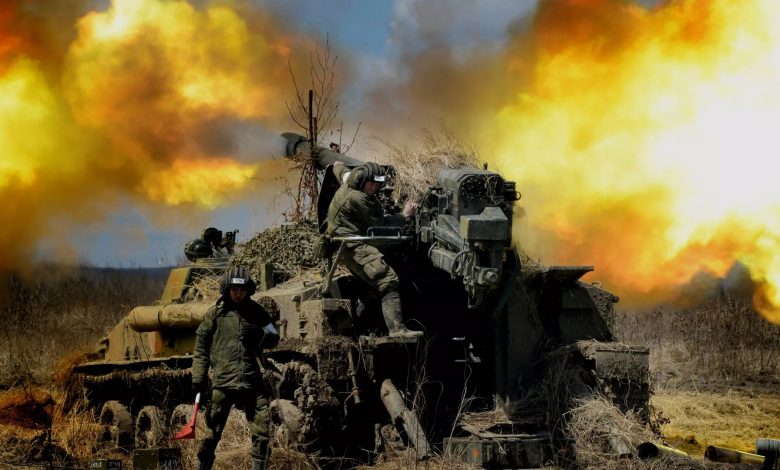 Russian army have struck warehouses reportedly storing ammunition at a railway depot in the Ukrainian city of Pavlohrad, in an apparent effort to slow Kyiv's preparations for its much anticipated counteroffensive expected to start shortly.
Video posted on social media showed secondary detonations amid a significant blaze at the site of the strike, which came amid overnight missile launches against a number of Ukrainian cities by Russian strategic bombers.
Pavlohrad was struck twice during the night. Among the buildings damaged or destroyed were an industrial zone, 19 apartment buildings and 25 homes, according to Mykola Lukashuk, the head of the Dnipro region council.
"There were also fires. Emergency services are at work," Lukashuk added.
According to preliminary assessments 34 people were injured in the strike on Pavlohrad including five children with several dozen buildings, including houses and high rises damaged in the strike.
Vladimir Rogov, an official in the Russian-backed administration of the Zaporizhzhia region, posted late on Sunday what he said were pictures and videos of fires in Pavlohrad and said that Russian forces struck at military targets there.
Among the casualties, two women were reported seriously injured. According to some Ukrainian sources one location hit was a plant that produced solid fuel for Soviet-era rocket motors and had a number of expired solid fuel motors awaiting decommissioning, although that claim could not be immediately verified.
Russia says some recent strikes are designed to hamper Kyiv's plans for a long-planned counteroffensive in the east.
The size of the fire in Pavlohrad suggests Russia may have hit an important arms depot and comes after Ukraine's recent attack on an oil storage facility in Sevastopol, Crimea.
The Ukrainian military reported that air defence crews had destroyed 15 out of 18 missiles launched by Russian forces in the early hours of Monday morning with air raid sirens and air defence batteries audible in Kyiv and across the country.
"Around 2.30am (1130 GMT), the Russian invaders attacked Ukraine from strategic aviation planes," a post on the Telegram channel of Valerii Zaluzhnyi, the commander-in chief of Ukraine's armed forces, read.
According to Zaluzhnyi's statement the missile launches involved nine Tu-95 aircraft and two Tu-160 aircraft, which were detected airborne before the attack. Kyiv's city officials wrote on the Telegram messaging app that all missiles directed at the capital were destroyed.
"According to [preliminary information], no casualties among the civilian population and no destruction of residential facilities or infrastructure have been recorded," the city administration said.
Air defence systems were also called into action to shield the Kyiv region, which is a separate administrative entity from the city, from Russian missiles, officials said. Ukrainian media also reported blasts in the Dnipropetrovsk and Sumy regions.
The latest wave of attacks comes as Moscow appears to be stepping up its missile strikes on Ukrainian cities before a much-anticipated Ukrainian counteroffensive, which senior Ukrainian officials have suggested may be imminent.
"If in a global sense, in a high-percentage mode, we are ready, then the question is for the general staff, for the command," Ukraine's defence minister, Oleksii Reznikov, said during a press conference in Kyiv on Friday.
"As soon as there is God's will, the weather, and the decision of the commanders – we will do it."
On Friday, 25 people died in Russian missile strikes, including 23 in an apartment block in the city of Uman.
Almost all of the 23 victims of the attack died when two missiles slammed into an apartment building. Ukrainian interior minister Ihor Klymenko said six children were among the dead.
As mourners held candles, crossed themselves and sang, the priest waved a vessel containing incense over the coffins. He said the deaths had hit the entire community.
Mykhayl Shulha, six, cried and hugged relatives next to the coffin of his 11-year-old sister, Sofia, during Sunday's funeral, while others paid respects to a 17-year-old boy.