Salah and Ronaldo .. the struggle of numbers ignites early in the Premier League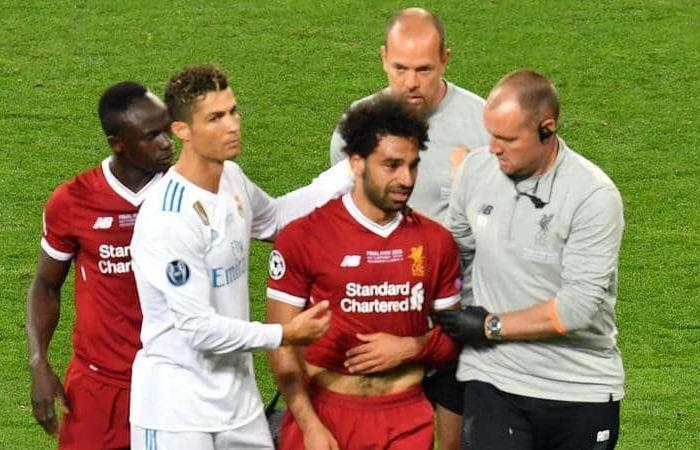 With his goal against Leeds United in the fourth round of the English Premier League, Salah entered the 100 club in the competition, ranking fifth in the list of the fastest memberships.
Salah scored his 100th goal in his 162nd match, the fifth best number in the history of the Premier League, preceded only by Alan Shearer, who achieved his number in 124 games, Harry Kane (141 games), Sergio Aguero (147 games) and Thierry Henry (160 games).
Although Cristiano Ronaldo, the star returning to Manchester United, has played 197 matches in the Premier League so far, he has not managed to reach Salah's number, that is, he did not break into the 100 club.
With his two goals against Newcastle, Ronaldo raised his score in the Premier League to 86 goals, only 14 goals separated him from entering the Hundred Club to win the 31st membership, but he may be preceded by Senegalese Sadio Mane, Liverpool player, who scored 97 goals in 233 games.
Salah had previously broken Ronaldo's record as the player to score the most in a single season in the Premier League, by scoring 31 goals in the 2007-2008 season, after the Egyptian scored 32 goals in the 2017-2018 season.
In the event Ronaldo enters the 100 club, the race between them will remain inflamed with the presence of Kane, as the trio seeks to occupy advanced positions in the competition's historic top scorer race, led by retired Shearer with 260 goals.
Ronaldo used to break records, and his new challenge in the Premier League lies in chasing more numbers despite the difficulty of the competition, and he is over the age of 36.
Ronaldo managed to score in a Manchester United shirt in his first appearance this season, to achieve the second best number in the scoring difference between two goals in the tournament, after the difference between his last goals before leaving and his goal in Newcastle this season expanded to 12 years and 124 days.
Salah's numbers in the Premier League, and Ronaldo in his entire career, indicate limitless excitement this season in the English Premier League, between two football legends in their countries and their clubs. Sky News