Saudi Arabia, Iran agree to resume diplomatic ties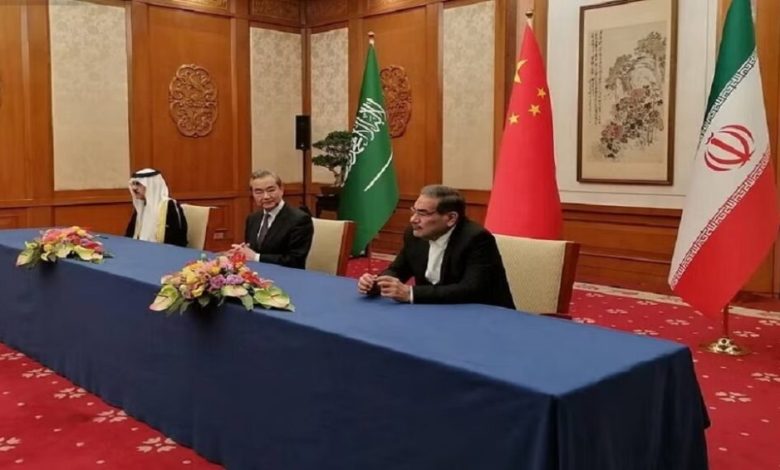 Saudi Arabia and Iran agreed Friday to reestablish diplomatic relations, the deal, struck in Beijing this week amid its ceremonial National People's Congress, represents a major diplomatic victory for the Chinese as Gulf Arab states perceive the United States slowly withdrawing from the wider Middle East.
It also comes as diplomats have been trying to end a long war in Yemen, a conflict in which both Iran and Saudi Arabia are deeply entrenched.
The two countries released a joint communique on the deal with China, which brokered the agreement as President Xi Jinping was awarded a third five-year term as leader earlier Friday.
Videos on Iranian state media showed Ali Shamkhani, the secretary of Iran's Supreme National Security Council, with Saudi national security adviser Musaad bin Mohammed al-Aiban and Wang Yi, China's most senior diplomat.
The joint statement calls for reestablishing ties and reopening embassies to happen "within a maximum period of two months." A meeting by their foreign ministers is also planned.
In the video, Wang could be heard offering "wholehearted congratulations" on the two countries' "wisdom."
"Both sides have displayed sincerity," he said. "China fully supports this agreement."
The United Nations welcomed the Saudi-Iranian rapprochement and thanked China for its role. "Good neighborly relations between Iran and Saudi Arabia are essential for the stability of the Gulf region," U.N. spokesperson Stéphane Dujarric told reporters at U.N. headquarters.
China, which last month hosted Iran's hard-line President Ebrahim Raisi, is also a top purchaser of Saudi oil. Xi visited Riyadh in December for meetings with oil-rich Gulf Arab nations crucial to China's energy supplies.
Iran's state-run IRNA news agency quoted Shamkhani as calling the talks "clear, transparent, comprehensive and constructive."
"Removing misunderstandings and the future-oriented views in relations between Tehran and Riyadh will definitely lead to improving regional stability and security, as well as increasing cooperation among Persian Gulf nations and the world of Islam for managing current challenges," Shamkhani said.
Al-Aiban thanked Iraq and Oman for mediating between Iran and the kingdom, according to his remarks carried by the state-run Saudi Press Agency.
"While we value what we have reached, we hope that we will continue to continue the constructive dialogue," the Saudi official said.
For Israel, which has wanted to normalize relations with Saudi Arabia despite the Palestinians remaining without a state of their own, Riyadh easing tensions with Iran could complicate its own regional calculations.
Israeli Prime Minister Benjamin Netanyahu, under pressure politically at home, has threatened military action against Iran's nuclear program as it enriches closer than ever to weapons-grade levels. Riyadh seeking peace with Tehran takes one potential ally for a strike off the table. Netanyahu's government offered no immediate comment Friday to the news.
It remains unclear, however, what this means for America. Though long viewed as guaranteeing Mideast energy security, regional leaders have grown increasingly wary of Washington's intentions after its chaotic 2021 withdrawal from Afghanistan. The U.S. State Department did not immediately respond to a request for comment.
However, the White House bristled at the notion that a Saudi-Iran agreement in Beijing suggests a rise of Chinese influence in the Mideast.
"I would stridently push back on this idea that we're stepping back in the Middle East — far from it," National Security Council spokesman John Kirby said.
He added: "It really does remain to be seen whether the Iranians are going to honor their side of the deal. This is not a regime that typically honors its word."
Mark Dubowitz, head of the Foundation for the Defense of Democracies, which opposes the Iran nuclear deal, said renewed Iran-Saudi ties via Chinese mediation "is a lose, lose, lose for American interests,".