Serious crises faces Muslim Brotherhood organizations in Arab countries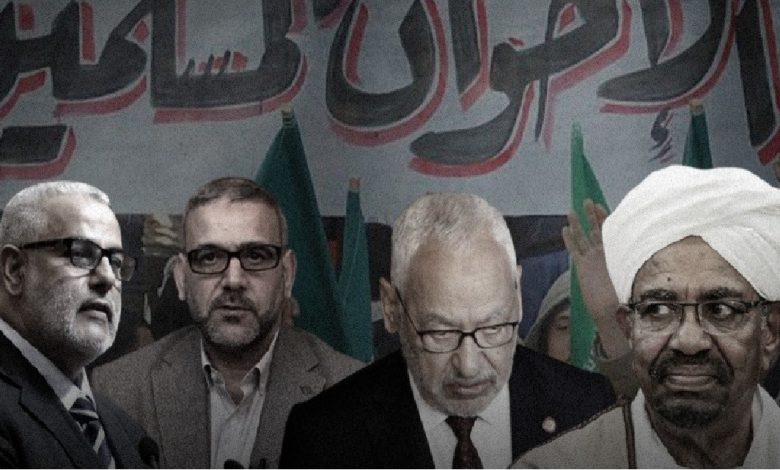 Most of international organization of the Brotherhood branches in Arab countries suffer from serious crises, which distract them from the internal struggle for the leadership in London and Istanbul offices, in fact most branches have already announced their dissociation from Egypt Brotherhood, after the group was designated as a terrorist in Egypt and several countries in 2014.
Among the most important branches that announced the organizational disengagement of the Rashad Office are the Tunisia's Brotherhood, Jordan, Syria and others.
The future of the Muslim Brotherhood terrorist organization, has become ruled by two tracks, has no third, in light of its recent internal crisis, all titled, "End the organization and start another one.
According to the sources, the first path is secession from the Muslim Brotherhood group of Egypt, or what is known as Mahmoud Hussein group, under the guidance of Al-Ershad Office, and separation from the international organization, which is currently headed by Ibrahim Mounir.
As for the second path in front of the Brotherhood group, according to different sources interested in what is happening inside the organization, it is represented in the ability of the so-called group of historical leaders led by Hussein to solve the internal conflict, by declaring him to act as leader instead of Al-Murshid and removing the powers of Munir, in this case the situation within the organization will also collapse for two reasons, the first is the categorical rejection for the presence of Hussein, which is accused of financial corruption and has big disagreements with them.
The second reason is the organization international leaders refusal to prosecute Hussein and his group, who are accused of corruption and inability to manage the escalation of the crisis of the organization since the fall in Egypt in 2013.
According to our sorces all the options that remain before the organization will destroy it, some leaders try hard to save the organization as has happened repeatedly in the history of the group.
Despite the crises and conflicts over the past 90 years, which is the age of the group, the current crisis is the strongest and most violent, observers say.
According to our sources, there is many conflicts between Munir and Hussein fronts after the recent decisions to transfer some leaders to investigation due charges of financial corruption, after Munir decided to dismiss them from their positions.
The group has witnessed many conflicts since the Interim General Guide of the Brotherhood, Ibrahim Munir, officially decided to dissolve the Administrative Office for Organizational Affairs in Turkey, as well as the Shoura Council of Qatar, last June, as well as postpone the internal elections which were to be held in a few weeks to choose the members of the Shoura Council, for six months.