Shoukry at presser with French counterpart: Egypt aimed to keep Rafah crossing open since start of conflict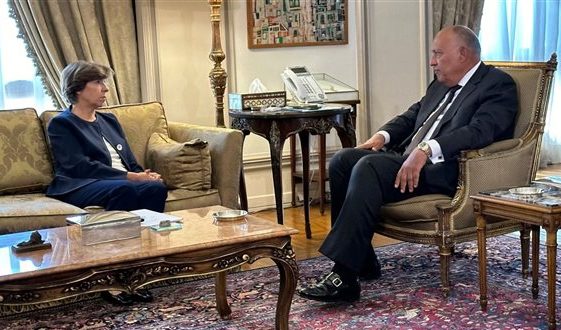 In a joint press conference with his French counterpart Catherine Colonna in Cairo, Shoukry warned that the situation faced by the Palestinian people in Gaza is "dangerous."
"Israel is preventing aid from entering Gaza," Egypt's top diplomat noted.
Egypt, Shoukry noted, is seeking to deliver humanitarian aid to the Palestinians in the Gaza Strip through a "secure" Rafah border crossing between Egypt and Gaza.
He pointed out that coordination is ongoing between Egypt and international organizations; such as the UNRWA and the International Committee of the Red Cross, to provide urgent aid to relieve the suffering of civilians in Gaza.
Shoukry stressed the need to cease violence in the strip, saying "We must focus at this moment on halting the escalation."
He reaffirmed Egypt's "absolute" rejection of the displacement of Gazans and the liquidation of the Palestinian cause.
The French minister called for allowing the passage of humanitarian aid into Gaza as well as the evacuation of foreigners, including French nationals.
"There are French nationals seeking to depart Gaza through the Rafah crossing," Colonna said during the presser.
"Egypt should not bear the consequences of the current conflict in Gaza," she added.
She praised Egypt's role in organizing the aid provided by multiple parties to the Palestinians, assuring that "aid must be delivered to the Palestinian people in Gaza."
Colonna also welcomed Egypt's invitation for an international and regional conference in Cairo to address the future of the Palestinian cause.
She announced France's contribution of €10 million to support the Palestinians. 
Colonna held an earlier meeting with President Abdel-Fattah El-Sisi, where they also discussed the latest developments in Gaza.
In a previous statement, Cairo said the vital infrastructure of the Rafah crossing on the Palestinian side has suffered damage due to recurrent Israeli air strikes, disrupting its regular operation.
Several shipments of humanitarian aid have arrived at North Sinai's El-Arish International Airport awaiting passage into the enclave.
The Rafah border crossing between Egypt and Gaza remained closed into the early afternoon hours despite earlier reports that a deal to deliver aid to Gaza in exchange for the evacuation of foreigners was brokered by Egypt, Israel, and the US.
Israel and Hamas denied the reports, declaring that there was no agreement reached on a humanitarian ceasefire.