Spain legend Sergio Ramos retires from international football after trophy filled career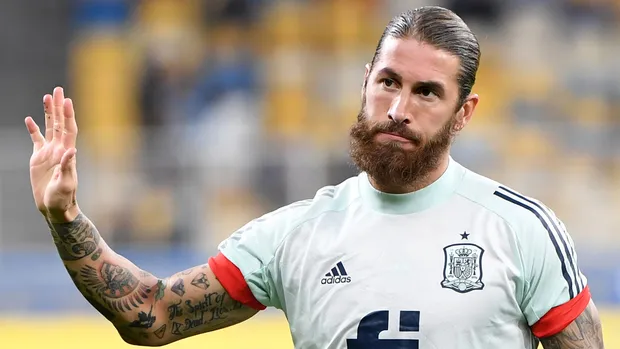 Ramos announces international retirement
Won two Euros, one World Cup
Spain's most capped player with 180 appearances
WHAT HAPPENED? The 36-year-old has called time on a star-studded international career spanning nearly 18 years. Ramos was part of the Spain team that won their first ever World Cup trophy in 2010, which was sandwiched between two European Championship titles in 2008 and 2012. On stepping down from international duties, the centre-back wanted to thank supporters "from the bottom of my heart."
WHAT THEY SAID?: "The time has come. Time for me to say goodbye to the Spain national team," Ramos' statement read. "This morning, I received a call from the current Head Coach who informed me that I am not and will not be part of his plans, regardless of how I perform or what I do in my career. With a heavy heart, it's the end of the road that I hoped would stretch out further and which would end with a better taste in my mouth.
"I honestly believe that this journey deserved to end at my own choosing or because my performances were not at a level worthy of our national team. Because age in itself is not a virtue or a defect; it's just a number that is not necessarily related to performance or ability. I admire and envy players like Modric, Messi and Pepe. Unfortunately, it won't be like that for me because football isn't always fair and football is never just football."
AND WHAT'S MORE: Ramos added: "I come away with unforgettable memories, all the titles we've fought for and celebrated together and the tremendous pride I feel as the most capped Spanish international of all time. This badge, this shirt and these fans, all of you, have made me happy. My heartfelt thanks to all of you who believed in me!"
THE BIGGER PICTURE: Not only does Ramos retire as Spain's most capped player, but he places sixth in the all time record book for men's national team players. The top spot is jointly held by Kuwait's Bader Al-Mutawa and Portugal legend Cristiano Ronaldo with 196 caps apiece. For Spain, though, Ramos saw his game time diminish significantly under head coach Luis Enrique, having missed out on his Euro 2020 and Qatar 2022 squads. The defender's last ever Spain appearance came off the bench against Kosovo on March 31, 2021.
IN THREE PHOTOS:
Getty Images
Getty Images
WHAT NEXT FOR RAMOS? With his international career drawing to a close, the Spaniard will now be able to focus on domestic matters with Paris Saint-Germain, who are next in action away to Marseille on Sunday.