Speaker of the Libyan Parliament Aguila Saleh: Dabaiba's speech "incitement to citizens"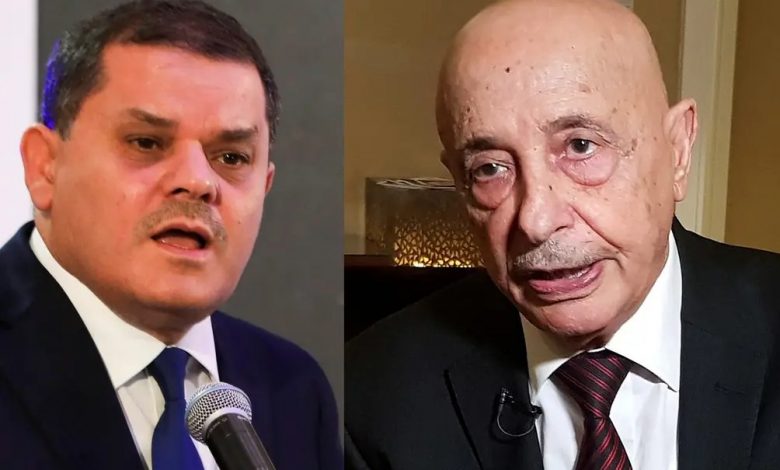 The Speaker of the Libyan House of Representatives, Aguila Saleh, responded to the statements of Prime Minister Abdel Hamid al-Dabaiba, after the parliament withdrew confidence from the national unity government.
Saleh said on Tuesday that "the one who gave confidence is the one who withdraws it," according to local media.
He also considered Dabaiba's speech "incitement to citizens."
Government accusations
In addition, Saleh accused the government of not carrying out the benefits entrusted to it, saying that it "abandoned its duties and implemented long-term contracts," adding: "What we have come to know is that it spent 84 billion in a short period within 6 months."
He also stressed that the Dabaiba government will conduct business and provide all citizens' requirements.
He revealed the formation of "committees with jurisdiction because there are actions taken by the government that amount to crimes against the country's economy," as he put it.
Libyan Prime Minister Abdel Hamid Dabaiba (file photo from the Associated Press)
On the other hand, members of parliament from Tripoli said that the decision to withdraw confidence from the government does not reflect the will of the parliament and will lead the country into a constitutional crisis.
The crowd in Martyrs Square
The Speaker of the House of Representatives' statements come after the Prime Minister announced earlier Tuesday his rejection of Parliament's decision to withdraw confidence from his government, saying that he will continue his duties to complete what he started until the country is unified and elections are held.
It is noteworthy that the parliament voted by a majority on Tuesday to withdraw confidence from the national unity government, after 6 months of taking power and 3 months before the end of its functions.
Dabaiba called on all Libyans from all cities to take to the streets on Friday and gather in Martyrs Square in the capital, Tripoli, to express their views and support the government.