Struggling 'Peripheral France' At Center of New Protests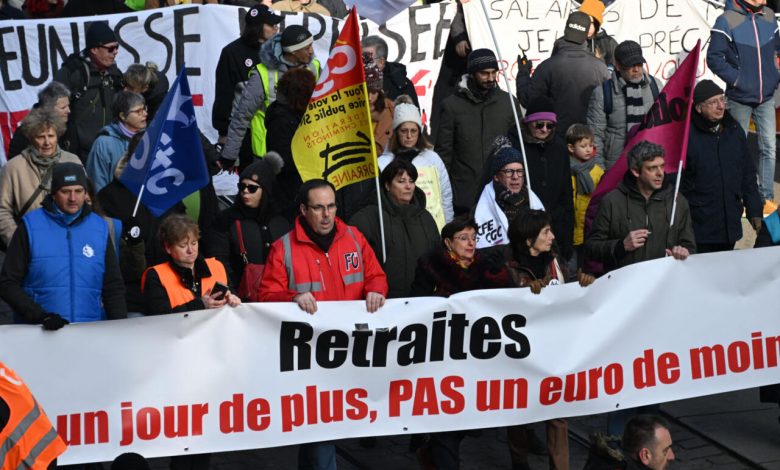 France is in the grip of a fresh wave of protests, with support for demonstrations particularly strong in small and medium-sized towns, often overlooked areas of the country that are simmering with resentment, experts say.
On the fifth day of protests and strikes against President Emmanuel Macron's proposed pension reform on Thursday, trade union leaders headed to the southwestern city of Albi to stress that their movement has broad national backing.
The picturesque center with narrow medieval streets and 13th-century cathedral suffers from the same problems afflicting many such places in France: boarded-up shops, high unemployment and worries about public services.
Far poorer than nearby regional powerhouse Toulouse, which thrives thanks to its aerospace industry, Albi is the sort of town where the sometimes-violent "Yellow Vest" protests against Macron proliferated in 2018-19.
"It's not only about Paris," he added, echoing a widely felt sentiment in so-called "peripheral France" where many begrudge the political and economic power concentrated in the capital.
"It's important to show that this movement is present across the whole of France," the head of the hard-left CGT union, Philippe Martinez, told reporters Thursday in winter sunshine outside a glass factory in Albi.
– Huge turnout –
Previous rounds of protest since January 19 have drawn more than a million people onto the streets across France — some of the biggest demonstrations in decades — with the largest rallies in Paris.
But the demonstrations in small and medium-sized towns have caught attention because of their size relative to their population.
Places such as Saintes, near the cognac-producing vineyards of western France, or central Saint-Marcellin, source of a famous soft cheese of the same name, have seen crowds of thousands denounce Macron and his government.
In remote Mende, a southern town located along what is sometimes called the "diagonale du vide" ("the empty diagonal") that transects France, around a quarter of the 12,000 inhabitants turned out for a protest in January.
The left-leaning Jean Jaures Fondation, a think-tank in Paris, mapped this phenomenon in a recent report which concluded that the protests were bringing together anti-Macron "Yellow Vest" supporters, unionised workers, and other left-wingers.
"The people who are furthest from the biggest towns, from public services, who are dependant on their cars, which is a cost-of-living problem, are those that are most likely to oppose Emmanuel Macron," Antoine Bristielle, a public opinion expert at the foundation, told AFP.
During his election successes in 2017 and again last year, pro-business Macron attracted mostly urban, educated, wealthy and more elderly voters. The opposite was true for his closest rival, far-right leader Marine Le Pen.
– Covid after-effects? –
The former investment banker has been vilified as a "president of the rich" since his first months in office, when he cut wealth taxes and brought in changes to labour law to make it easier to fire workers.
Macron's pension reform will see the retirement age raised to 64 from 62.
It is widely perceived as being unfair on people who did not attend university, who tend to start their working life earlier than graduates — among whom retirement around 64 or 65 is already common.
"In these (small and medium-sized) towns, there are a lot of workers who started early, who didn't go to the regional capital to study, who work in jobs like transport, construction or restaurants which are physical and sometimes difficult professions," said author and pollster Jerome Fourquet.
They are also places where the biggest employer is often the highly unionised public health sector, the Ifop polling group expert told CNews channel Wednesday.
Fourquet said small towns contained a high proportion of nurses or pharmacists, workers in old people's homes or supermarket cashiers who toiled during Covid despite the dangers.
Some of Macron's closest political allies had warned the 45-year-old leader about the risk of antagonising people, given the cost-of-living crisis linked to the war in Ukraine and the aftermath of the Covid-19 pandemic.
They have the impression "of having been put on a pedestal during Covid but the only response, the only compensation for these efforts has been to ask them to work two more years in their careers," he said.