Sudan's RSF Deputy Leader says U.S. Sanctions on him 'Unfair'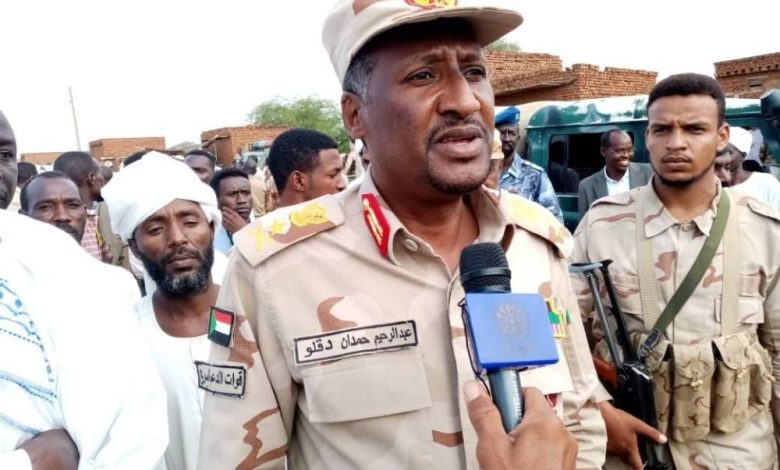 The deputy leader of Sudan's paramilitary Rapid Support Forces (RSF) said on Thursday that U.S. sanctions imposed on him over human rights abuses were unfair and declared that the RSF has seized enough army weapons to last 20 years.
The U.S. ambassador to the United Nations, Linda Thomas-Greenfield, announced the sanctions on Abdelrahim Dagalo – who is also brother of the RSF commander – during a trip to Adre on Chad's border with Sudan to meet with refugees fleeing ethnic and sexual violence.
"The decision for us is an unfair decision and a decision taken from information from one side or from a side that is very opposite to the Rapid Support Forces," Dagalo told Sky News Arabia on Thursday, saying that the U.S. action had been taken without a clear investigation.
Thomas-Greenfield scoffed at Dagalo's response.
"This is about justice, this is about accountability and that's where we're continuing to focus our attention."
"Please. What is unfair, unconscionable are the atrocities that are being committed against the Sudanese people. That's the issue that is unfair," she told Reuters in N'Djamena.
The move to target Dagalo is the highest profile use of sanctions since conflict broke out between the RSF and Sudan's army in mid-April and is an apparent response to the violence in West Darfur, which the RSF is accused of perpetrating along with allied militias.
"The authorities that issued the sanctions did not wait and did not know who creates strife in Darfur or who kills people and who defends people's lives and … who solves the problems," Dagalo said.
In a statement, the RSF said the move jeopardised the ability of the U.S. to act as a mediator, accused the army of carrying out violations in Darfur, and described the violence there as an "old and recurring tribal conflict".
It also criticised U.S. restrictions against the RSF's West Darfur commander over the killing of the governor of West Darfur in June, saying the move pre-empted other investigations into the incident.
HUMANITARIAN CRISIS
The war in Sudan began four years after a popular uprising ousted President Omar al-Bashir. Tensions between the army and RSF, which jointly staged a coup in 2021, erupted into fighting over a plan to integrate their forces as part of a transition to civilian rule.
Late on Wednesday, Sudan's military ruler General Abdel Fattah al-Burhan issued a constitutional decree ordering the dissolution of the RSF.
Dagalo said that Burhan did not have the legitimacy to do so.
"Now we have stores of weapons and supplies belonging to the armed forces (…) that could last us 20 years," he added.
The United Nations says half Sudan's 49 million people need help and has appealed for $2.6 billion – so far, it has secured only 26% of this amount.
Since April some 380,000 refugees – mostly women and children – have fled to Chad, the U.N. says. Hundreds of thousands more have escaped to Central African Republic, Egypt, Ethiopia and South Sudan.
Burhan on Thursday visited Doha, the latest in a series of regional visits to garner support, and discussed Qatari humanitarian aid and investment, the sovereign council said in a statement.
The U.N. Refugee Agency (UNHCR) has appealed for $1 billion to help provide aid and protection to more than 1.8 million people expected to flee Sudan this year. More than 4 million people have been displaced inside the country since the start of the war, according to the International Organization for Migration.
"We thank Qatar's Emir Tamim, its government, and people, for their continued support of the Sudanese people and standing beside them particularly under these circumstances," Burhan said in a statement.