Sydney stabbing: one woman dead, one injured in CBD incident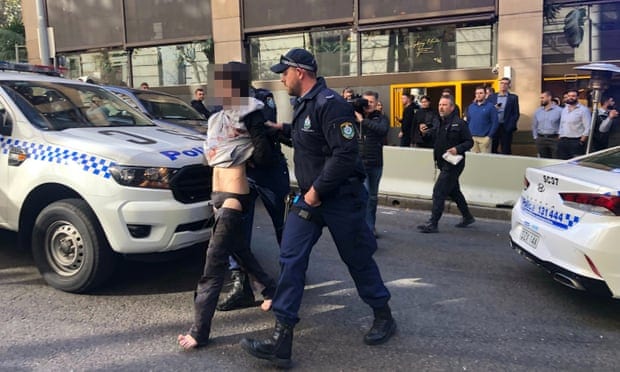 A woman has been found dead and another is in hospital after a 21-year-old man wielding a large butchers knife went on an alleged stabbing rampage in Sydney's central business district. 
NSW Police confirmed on Tuesday afternoon that a 21-year-old man from Marayong in Western Sydney was in custody after a 41-year-old woman was stabbed in a hotel on the corner of Clarence St and King St in the city. 
She has been taken to hospital in a stable condition with a stab wound to her back.
A police spokesperson confirmed shortly after the body of a second unidentified woman, in her 20s, had been found inside a unit on Clarence St.
NSW Police Commissioner Mick Fuller told reporters on Monday evening that "all the information that we have at the moment would link these two crimes."
He said the attacks – described as "terrifying carnage" – were subject to an ongoing investigation but were "certainly not a terrorist incident".
The alleged offender was the definition of a "lone actor", he said, and did not have any links to terrorist organisations despite appearing to hold "some ideologies related to terrorism". 
"From everything we have at the moment there are no links to terrorist organisations," he said, adding that the man did have a history of mental health issues. 
"I can say that he was known to police but his history was unremarkable compared to the gravity of the crimes committed."
Multiple police, fire and ambulance vehicles raced to Sydney's central business district at about 2pm on Tuesday, following reports a man was walking along York St armed with a knife.
Members of the public rushed to detain the man, using milk creates and chairs, before he was arrested by police and taken to Day Street Police Station on a stretcher. 
Superintendent Gavin Wood said there was only one alleged offender, who was in custody, and that the "threat had been negated". 
"A number of members of the public physically restrained the offender. I want to acknowledge those members of the public who got involved," he said.
"They were brave and I can only use that word seriously. They were significantly brave people."
Superintendent Wood said the attacker's rationale was unknown and investigations were ongoing. 
Members of the public are being urged to avoid the area.
Witness Zak Barry said he saw the man fall down on York St "and as he's falling he dropped a kitchen knife".
Paul O'Shaughnessy, 37, said his brother Luke, 30, saw a man with a balaclava wielding a knife.
The pair chased the man and then managed to get a grip on him with the help of a third person.
Another witness, Tejas Oza, told SBS News he had just finished a meeting nearby and arrived at the scene as police were arresting a man.
"Police were grabbing him and pushing him on the ground. I heard from people he had a knife in his hand and he was stabbing all these people before police caught him," Mr Oza said.
"I heard this man had basically come out of nowhere and started stabbing people who were having lunch."
He said the crowd was "shaken up, that's for sure".
Video posted on Twitter shows the man yelled at police: "F***ing shoot me in the f***ing head" before he was wrestled to the ground by bystanders and a milk crate was placed over his head.
A witness can be heard saying "he just stabbed a chick in broad daylight".
An Uber driver, Leon, reportedly told 2GB that a shirtless man covered in blood and carrying a knife had leapt across the bonnet of his car.
The caller said the man was being chased by police and firefighters. He said the man appeared to be aged 23 to 24 and looked like he was "on something".
Prime Minister Scott Morrison said his thoughts were with all people "impacted by this violent attack", commending the brave actions of bystanders. 
"The motivation for this attack has not yet been determined as police are continuing with their enquiries," he tweeted. 
"Any further official information will be provided by the New South Wales Police, who are keeping us appraised through our agencies, including details of casualties."