Arrival of Egyptians workers who were tortured by Libyan militia to Cairo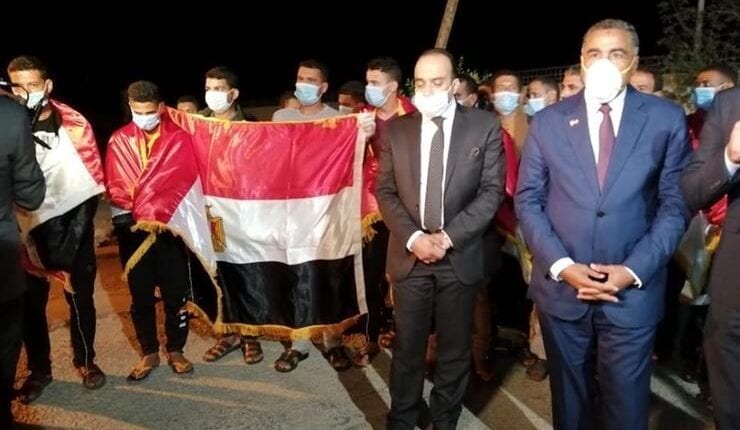 Arrived in the early hours of Thursday morning, Egyptian workers who were tortured At the hands of the Al-Wefaq government militia in Libya, to Cairo.
The Egyptian authorities intervened to liberate the workers, release them, and return them, hours after President Abdel Fattah al-Sisi instructed the state agencies to send them back to the country.
And 23 Egyptians, who were detained in the Libyan territories on board 4 buses under the protection of the Libyan army, arrived at the land port of Salloum in Egypt, according to "Al-Arabiya" sources.
The Libyan army spokesman, Major General Ahmed Al-Mismari, announced last Monday that "the torture of Egyptian workers took place at the headquarters of the Al-Hazm militia affiliated with Al-Wefaq in Misrata."
Al-Mesmari said that "the Libyan army has set a location for photographing torture of Egyptian workers."

The arrival of Egyptians detained in Libya to Cairo
This has arrested the militias of the reconciliation forces Dozens of Egyptian workers, And tortured and tortured them, on charges of supporting the Libyan army and working in its ranks.
A video clip and pictures circulating on social media showed shocking scenes of brutal torture and insult to the Egyptian workers after they were arrested by armed militia.
They were forced to stand under the sun by barefoot, on one foot and raise their hands to the top, and they were also forced to chant verbal abuse, chanting and praising the city of Misurata.
On the other hand, the Egyptian government announced, on Monday, that the attack on Egyptian workers by the Al-Wefaq militia in Libya "will not go unnoticed."
In response to requests for briefing in the Egyptian parliament regarding the incident, Ambassador Nabila Makram Ebeid, the Egyptian Minister of Immigration, said that Egypt would not remain silent on any violations or attacks on its workers abroad and would take a practical stance to respond, adding that during the crises, the war against Egypt is being intensified by some The stalkers who try to offend and ignite discord between her and her siblings.