The Bassem Youssef moment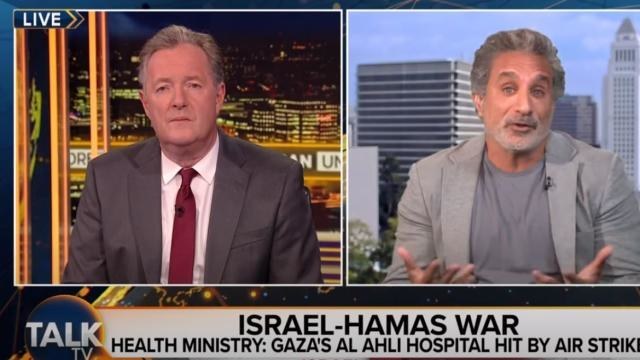 There is an old English saying that goes, "If you are going to tell people the truth, make them laugh. Otherwise they will kill you." This could not have been more evident than in Egyptian satirist Bassem Youssef's recent interview with renowned television presenter Piers Morgan.
This interview — which has garnered 17 million views online, the most in the history of the "Piers Morgan Uncensored" show — has not only managed to quench the thirst of many Arabs for fair representation on Western channels, but it could also mark a turning point in the way we Arabs tell our story internationally.
First, hats off to Morgan and his team for always endeavoring to bring on the most interesting and relevant guests and to ask them the difficult questions, despite how hard this formula can be, as any producer on a daily talkshow knows. They also should be commended for not shying away from booking Youssef, who they knew was always going to criticize Israel, a position which could have been unpopular among their viewers (clearly, the phenomenal YouTube numbers have proven otherwise).
But it also takes two to tango. During the interview, Youssef portrayed a world-class ability to get the message across in a very effective way. For me, the high point was when he told Morgan: "If you want to only hear your opinion, I can just condemn Hamas and go home."
What Bassem Youssef portrayed on Piers Morgan show is that Arabs can also be funny, witty and … uncensored!

Faisal J. Abbas | Editor-in-Chief
This was extremely satisfying because it is the best response to what seems to be a short-sighted Western media obsession of only getting Arab and Muslim guests to condemn the actions of Hamas on Oct. 7. Such a narrative makes an assumption that the Israeli-Palestinian conflict only started two weeks ago and that there was no story that dates back 75 years.
It also assumes that any Arab or any Muslim will, by default, be supporting Hamas. This is despite the fact that almost all our governments have issued condemnations of the targeting of civilians on both sides. It also ignores the fact that, for years, many of our politicians, intellectuals and even average citizens have consistently warned against painting the whole Palestinian society with one brush and of sidelining the historical context of this long, and very painful, conflict and the suffering caused by the ongoing Israeli occupation.
What was equally impressive was Youssef deploying logic in such a lighthearted way that the other side could not help but be disarmed. For example, the Egyptian satirist made fun of the Israeli army's "cute" claim that it was "the only military force in the world that warns civilians before bombing them." He was basing this claim on a statement made by Ron DeSantis, the governor of Florida and a Republican candidate for the US presidency. "With this logic," Youssef said, "if Russian troops started warning Ukrainians before bombing their houses, we're cool with (Vladimir) Putin, right?" This was particularly relevant as Russia's 2022 invasion of Ukraine was condemned at the UN by Egypt, Saudi Arabia, the UAE and many other Arab countries.
I have always insisted that we, as Arabs, must tell our own story to prevent others from hijacking our narrative. I have always criticized our governments for not having enough English speakers who can logically argue our case in a calm and collected manner, as demonstrated recently by Crown Prince Mohammed bin Salman's Fox News interview, which he chose to give in English.
Speaking on the recent issue of Gaza, some of the incredibly compelling, official public speakers from the region include Jordan's King Abdullah, Saudi Arabia's former intelligence chief Prince Turki Al-Faisal and Palestinian Ambassador to the UK Husam Zomlot.
But of course, government officials will always be bound by certain protocols and restricted by their respective government's narrative. What the Bassem Youssef moment portrayed with Piers Morgan is that Arabs can also be funny, witty and … uncensored!
And while the average person may not always have the humor or confidence that an experienced satirist such as Youssef commands, the fact is we are now seeing an increasing number of young but competent, capable and convincing Arab subject matter experts emerging. I note Palestinian journalist Yara Eid's recent interview on Britain's Sky News and many others who have taken to social media platforms to make their case, peacefully and professionally.
We must also praise Western media outlets who go the extra mile to ensure Arab voices are included. As mentioned, the mere fact that Morgan interviewed Youssef, knowing up-front what his position was and taking the risk with his audience, is praiseworthy. Now I know that this should not be unusual in democracies such as the UK and the US, but with the recent wave of censorship and predominant cancel culture, airing both sides of an argument has become a revolutionary act.
Speaking of which, I am pleased to see that US network MSNBC seems to have made a U-turn on its decision to reportedly suspend the shows of three Muslim presenters. So, whether we agree with their views or not, "welcome back" Ayman Mohieddine, Mehdi Hasan and Ali Velshi. Let me state that the fact such a horrendous idea was even reportedly considered, and briefly implemented, speaks for itself as to the state of America and its democracy, which we are often lectured about.