The Foreign Ministry responds to Erdogan's "terrorism patron" allegations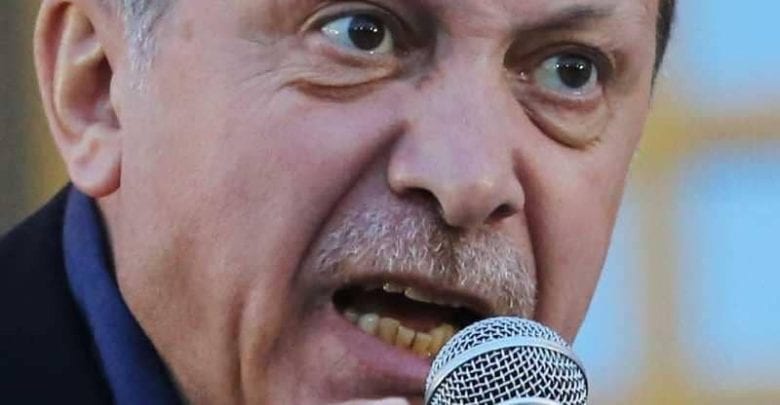 Foreign Ministry expresses dissent over allegations of Turkish President Recep Tayyip Erdogan regarding Mohamed Morsi's death during an event in New York State.
Erdogan continues to claim and make false and misleading statements, seemingly defending the values ​​of justice, and the inner feelings of hatred and hatred for Egypt and the people, not just the esteem of the people Turkish. In connection with his sponsorship of terrorism in the region, his regime is clearly abusing the Turkish people, trying to make him a hostage to wrong freedom and alleged justice. Both at the party level and in the Turkish and international arenas
Hafez said that "the following facts" are evidence of Erdogan's ignorance of justice, especially given the fact that there are more than 75,000 people political detainees in Turkey between civilians and the military. Reaffirming the system's significant expansion He added that there were dozens of deaths in prisoners as a result of suspicious conditions, torture or illness due to bad conditions in Turkish concentration camps, as well as the arbitrary dismissal of more to 1
30,000 government employees. The confiscation of more than 3,000 universities, schools and educational institutions in the expulsion of thousands of academics, and the imprisonment and detention of hundreds of journalists and media workers, has made Turkey the world's largest prison to journalists and media workers according to numerous international reports, is a manifestation of the deterioration of human rights conditions under Erdogan. (19659004)] This, wat Regarding the suspicious role in supporting and sponsoring terrorism in the region, Hafez said that the Turkish president's malicious practices have been exposed in many ways, as this is evident by embracing on terrorist Brotherhood and its elements in Turkey, and providing political support and media platforms to terrorist elements to continue to promote their ideas.
Hafez added that in his sponsorship of terrorism in Syria, a prolonged conflict claimed hundreds of thousands of Syrian brothers and deliberately targeted several Kurds with repression, assassination and assassination, belonging to crimes against the Syrian regime. To facilitate the passage of terrorist elements and foreign fighters and support them to penetrate into regional countries, Europe, Africa and Asia to secure them, promote extremist ideology and spread it, and use terrorism in a attempt to achieve the goals and aspirations of false expansion and influence
He also said, "It is not surprising that it continues to support the terrorist and extremist groups and armed miles in Libya, by providing all political and logical support of weapons and equipment; all in a systematic policy involving ongoing support for the elements. " The Foreign Ministry spokesperson added that "Egypt has always condemned the ongoing Turkish Presidential order in countries that support terrorism and extremist ideologies in disrupting affairs."
The foreign spokesperson to the minister concluded that a course that Erdogan continues to follow is a failure to hide feelings of continued hatred for Egypt and its continued development. In You In connection with his attempts to wreak havoc and destruction in the region, denouncing the Turkish president's initiation of a defender of liberty and the values ​​of justice, which is in fact not only for the defense of radical terrorist idea and his ilk. A Turkish Foreign Ministry spokesman emphasized that if the Turkish president wants to achieve justice, the international community should support Erdogan for all its crimes, especially supporting terrorism, supplying arms, sitting down of terrorists and providing them safe haven in violation of Security Council resolutions, as well as crimes against the people and against the Kurds.