The launch of the Cairo Peace Summit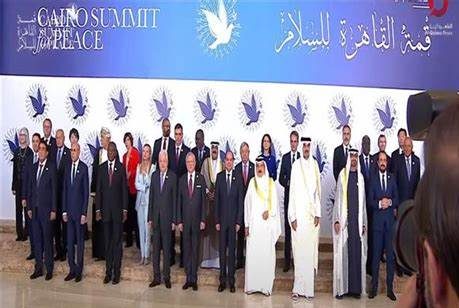 Egyptian President Abdel Fattah El-Sisi said Saturday he invited leaders to the Cairo Peace Summit to come to agreement for a roadmap to end humanitarian disaster in Gaza and revive path to peace.
The roadmap's goals included the delivery of aid to Gaza and agreeing a ceasefire, followed by negotiations leading to a two state solution, he said.
In the same vein, Jordan's King Abdullah said in his opening speech that the forced or internal displacement of Palestinians would be a war crime.
The hastily convened talks, which will bring together international and regional leaders, will explore ways to protect civilians from the violence and reach a just solution to the Palestinian issue.
El-Sisi called the summit as an agreement was reached with Israel to allow 20 trucks of aid per day through the Rafah border crossing in a bid to prevent a humanitarian crisis.
In a statement, Egyptian authorities said that the summit aims to push for an immediate ceasefire in Gaza after relentless Israeli bombardment killed about 4,000 Palestinians and injured more than 13,000.
Regional leaders attending the summit include Palestinian President Mahmoud Abbas, Jordan's King Abdullah II, Bahrain's King Hamad bin Isa Al-Khalifa, Qatari Emir Sheikh Tamim bin Hamad Al-Thani and Kuwaiti Crown Prince Sheikh Mishal Al-Ahmad Al-Sabah.
A list of international attendees includes Italian Prime Minister Giorgia Meloni, Spanish Prime Minister Pedro Sanchez, Greek Prime Minister Kyriakos Mitsotakis, Cypriot President Nikos Christodoulides, German Foreign Minister Annalena Baerbock, French Foreign Minister Catherine Colonna, Japanese Foreign Minister Yoko Kamikawa and UK Secretary of State for Foreign Affairs James Cleverly.