There is no dialogue before the withdrawal of the Southern Transitional Council from Aden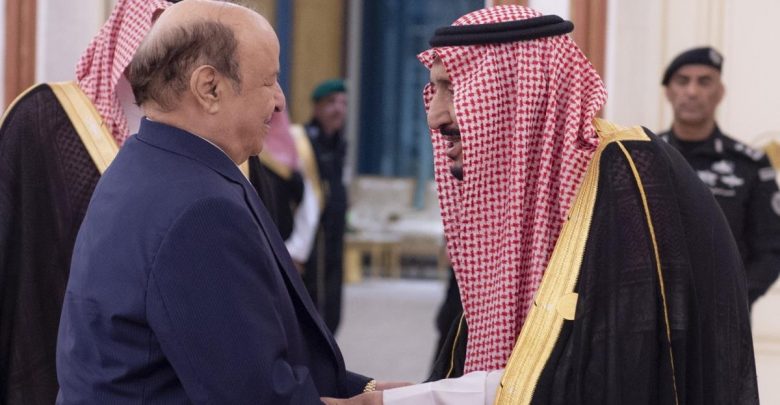 The government of Yemeni President Abd Rabbo Mansour Hadi confirmed on Wednesday that she will not engage in a political dialogue with southern separatists before withdrawing from their positions in the intermediate capital of Aden.
The statement added that "we must first comply with the coalition's statement that the Transitional Council should step down from the positions it had taken in the last days before each dialogue."
The Southern Transitional Council confirmed its readiness for Hawa Riad has called to Riyadh but has so far shown no willingness to withdraw from the places he controls, including the Presidential Palace.
Riyadh has previously invited the conflicting parties in Aden to an "urgent dialogue" with Saudi Arabia.
After a meeting in Saudi Arabia with King Salman and Crown Prince Mohammed bin Salman, Abu Dhabi Crown Prince Mohammed bin Zayed said that "dialogue is the only way to resolve any differences between Yemenis" "Yemen" embodies the common concern for the stability of Yemen and provides an important framework to defuse turmoil and achieve solidarity among the people
According to security sources close to the Transitional Council, it currently controls five Yemeni camps, the Presidential Palace and the Prime Minister.
Plunder 
Local Yemeni sources in Aden confirmed the increasing raids and arrests of activists opposing the coup of the pro-Emirati Southern Transitional Council. In Aden
and expanded the flesh They imposed a series of houses and arrested a number of activists, as well as security checks and controls in the main streets, firing bullets to intimidate the citizens.
Yemen Airways announced that it had suspended flights to and from Aden International Airport until further notice, and stated in a statement that the flights had been suspended because they were not authorized to operate flights at Aden International Airport had been granted.