Thousands Defy Bans in France to Rally Against Police Violence
French police have come under renewed scrutiny following the June 27 shooting of a teenager of Arab descent.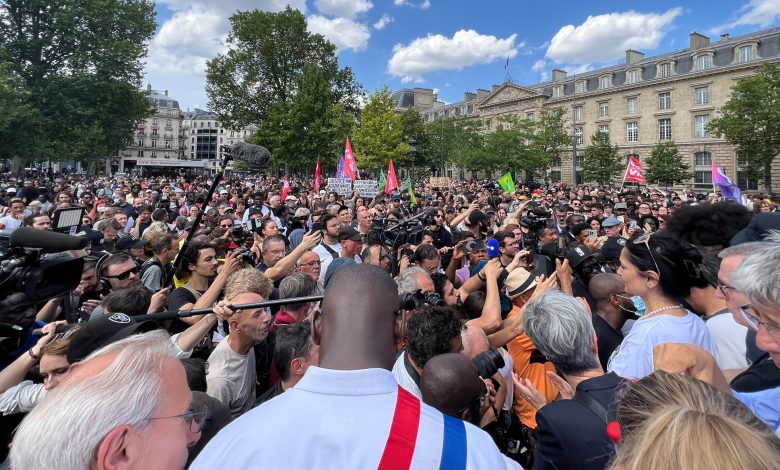 Thousands of French protesters have defied a ban to march in central Paris against police violence, a week after riots sparked by the killing of a teenager in a Parisian suburb broke out.
Police dispersed the 2,000 protesters from Paris's huge Place de la Republique on Saturday, sending several hundred people towards the wide Boulevard Magenta where they were seen marching peacefully.
Two people were arrested, the Paris police department said after the demonstration. It said it had banned the planned demonstration due to a "context of tensions".
Protesters called the ban "shocking".
"We still enjoy freedom of expression in France but freedom of assembly, in particular, is under threat", said Felix Bouvarel, a health worker who came to the gathering in spite of the ban.
About 30 demonstrations against police violence also took place across France, including in the southern port city of Marseille and Strasbourg in the east.
Authorities in Lille banned a gathering.
The rallies came a week after the country was rocked by riots sparked by the killing of Nahel M at a traffic stop in the Nanterre suburb of the French capital. The 17-year-old of Algerian and Moroccan origin was driving a sports car without a licence.
A police officer is under investigation for voluntary homicide; his lawyer says he did not intend to kill the teen.
Interior Minister Gerald Darmanin said this week that more than 3,000 people, mostly teenagers, had been arrested in six nights of riots that ended a week ago. Some 2,500 buildings were damaged.
The protests were called by the family of Adama Traore, a Black Frenchman who died in police custody in 2016 in circumstances similar to the killing of George Floyd in the United States.
In a video posted on Twitter, Assa Traore, Adama's older sister, denounced the police ban. "The government has decided to add fuel to the fire" and "not to respect the death of my little brother", she said.
Assa Traore, who attended the rally at the Place de la Republique, said she took part in the gathering to tell "the whole world that our dead have the right to exist, even in death".
"We are marching for the youth to denounce police violence. They want to hide our deaths," she said at the rally, which was also attended by several legislators.
"They authorise marches by neo-Nazis but they don't allow us to march. France cannot give us moral lessons. Its police is racist and violent," she added.
Since the shooting, rights groups have also called on the police to address allegations of racial profiling and questions over recruitment and training.
The CERD said it was concerned by "the persistent practice of racial profiling combined with the excessive use of force in the application of the law, in particular by the police, against members of minority groups, notably people of African and Arab origin".
The United Nations Committee on the Elimination of Racial Discrimination (CERD) – a body of 18 independent experts – on Friday asked France to pass legislation defining and banning racial profiling and questioned "excessive use of force by law enforcement".
But politicians, including President Emmanuel Macron and the French authorities, have denied institutional racism within the country's law enforcement agencies.
France's foreign ministry on Saturday disputed what it called "excessive" and "unfounded" remarks by the UN panel.
Far-right parties have linked the most intense and widespread riots France has seen since 2005 to mass migration and have demanded curbs on new arrivals.
Campaign groups say Saturday's "citizens marches" will be an opportunity for people to express their "grief and anger" at discriminatory police policies, especially in working-class neighbourhoods.