Thousands of people demonstrate against Netanyahu in Israel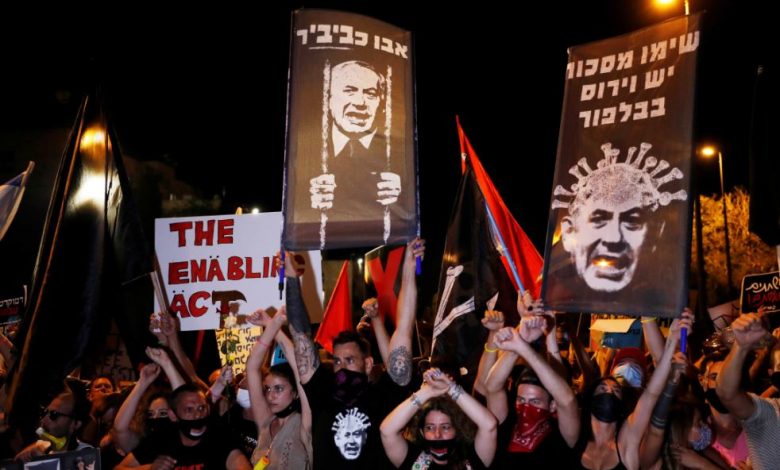 Thousands of people demonstrated this evening, Saturday, in different parts of Israel against Prime Minister Benjamin Netanyahu, according to Hebrew media.
The official Kan channel reported that thousands demonstrated in Rabin Square in Tel Aviv, central Israel, on the occasion of the 25th anniversary of the assassination of former Prime Minister Yitzhak Rabin.
Israeli opposition leader Yair Lapid said in a speech during the demonstration: "Rabin taught us that leadership is based on trust, and trust is based on values. Whoever does not accept laws puts the country at risk, and will find us before him.
Rabin was killed in Tel Aviv on November 4, 1995, when the militant Yigal Amir was shot, as he refused to sign the Oslo Accords with the Palestinians.
Lapid launched an attack on Netanyahu by saying, according to the private Channel 13 news: "Whoever violates the rule of law throughout the year and tries to destroy the courts should not talk to us on this day about unity. Whoever violates freedom of expression throughout the year attacks journalists and lies all the time about The audience, they shouldn't talk to us about unity. "
While the Hebrew newspaper "Yediot Aharonot" said that the demonstrations took place against Netanyahu in dozens of outposts in Israel.
She explained that about 1500 demonstrators gathered in Paris Square in West Jerusalem, near Netanyahu's residence, chanting slogans calling for the latter to resign, while anti-Netanyahu gathered in the center of Haifa (north).
This is the 20th week in which Israel witnesses continuous protests against Netanyahu, claiming that his government has failed to deal with the "Corona pandemic", which left about a million unemployed, in addition to being officially accused of bribery, breach of trust and fraud in 3 cases in which his trial began in May Past wells.