Thousands struggle to stay afloat as Bangladesh floods wreak havoc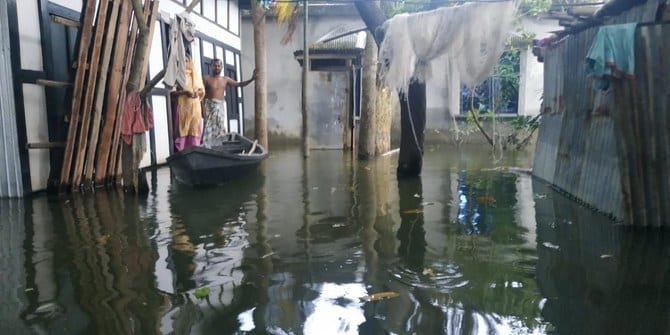 Thousands of Bangladeshis are struggling to make a living, with more than 40 percent of the country submerged in water following the worst floods since 1998, officials said Saturday.
As of Saturday 41 people had died from the floods, which has affected more than 5.5 million people out of a population of 166 million since June, according to government data.
"We are continuing relief activities in the flood-hit areas," Moazzem Hossain, additional secretary at the Ministry of Disaster Management and Relief, told Arab News. "At present, around 70,000 flood victims are sheltered in 1,452 shelter centers and we will continue this relief support as long as needed."
The worst-affected areas in the north, northeast and central Bangladesh include Kurigram, Gaibandha, Nilphamari, Rangpur, Lalmonirhat, Natore,  Sirajgong, Bogura, Jamalpur, Netrokona, Sylhet, Sunamganj, Munshiganj, Tangail, and Manikganj districts.
Officials said that although the floodwaters had receded, the recovery time could be longer in certain pockets of the country due to waterlogging which would invariably "increase the suffering" of people in several areas.
"Including the two main rivers, Padma and Jamuna, 12 other rivers are now flowing above the danger level," Arifur Rahman, executive engineer at the flood forecast and warning center at the Water Development Board told Arab News.
"The situation is expected to have a better look by the end of this week as floodwater started receding in some areas." 
On the ground, however, residents said the situation was much worse than what was being reported.
"I have been living on the dam for around one month," Ashek Nizam, a 43-year-old fisherman from Munshiganj district, told Arab News. "The floodwater started inundating our village during night hours and we didn't get enough time to save our valuables. I just rushed to the nearby dam with my three children and wife."
He said that the floods had dealt "a double blow" amid the ongoing coronavirus pandemic. "I had no income since last April due to the COVID-19 pandemic. I don't know how I can feed my children in the coming days since my annual rice stocks have been washed away by floodwater," he added.
Abdur Rahman, another flood victim and a farmer from the same area, was distraught and feared a "bleak future" after losing all his cattle to the floods.
"It appeared so quickly that I was not able to save my cattle," he told Arab News, his voice choking as he spoke. "I have no idea how I can continue my land cultivation in the next dry season."
Hossain said authorities were assessing the damage and losses caused.
"Authorities will continue the relief support program unless people find the way out of their regular livelihoods. We have enough resources and funds in stock and there is nothing to worry about in this situation unless any other major disaster hits the country."