Tripoli Protection Force accuses the Libyan Brotherhood of "causing corruption"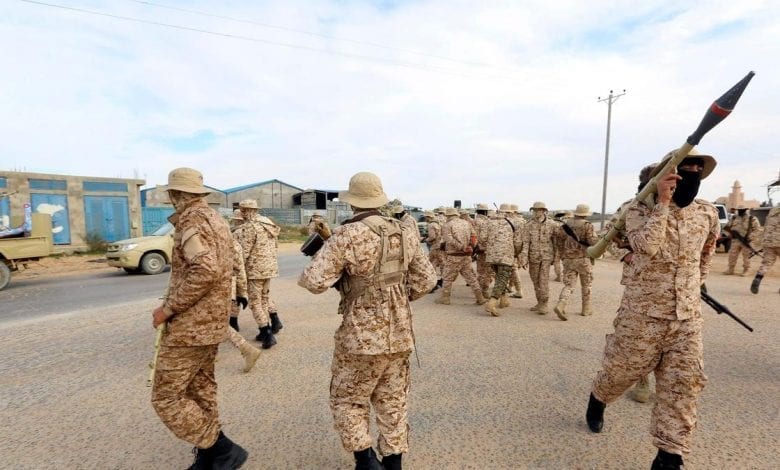 Crises continue between the various armed militias and the parties under Libyan Sarraj government, which is supported by the Turkish regime.
After the criticism directed by the deputy of Al-Sarraj, Ahmed Maitiq, to ​​him, rejecting the "domination of Fayez Al-Sarraj" over decisions, and after the angry demonstrations against the Sarraj government across Tripoli yesterday, in protest against the deterioration of living conditions and the spread of corruption.
A statement issued by the Tripoli Protection Force and published on its Facebook page warned all those who try to harm the country and the citizen, they will look after them and punish them, accusing the Brotherhood of "exhausting the country and Couse to this day."
The statement added: "This criminal group continues its destructive approach of causing crises, disturbing the country and citizens, and fighting leaders and honorable ones among us. Those who gave their blood and do their best for the sake of defending the homeland.
He added, "we  warn whoever is tempted to harm the country and the citizen, as it was and will still looking for them."
The Tripoli force considered one of the armed factions that fighting under the banner of the Sarraj government against the army, but their disagreement with the Brotherhood in the Sarraj government pushed them to expose the hidden things.
This comes after the deputy of Al-Sarraj, Ahmed Maitiq, demanded the military prosecutor to investigate the commander of the Tripoli Military Region, and to announce the results within 48 hours, in response to a previous statement of the Tripoli District Commander to support Al-Sarraj against any attempts to undermine him.
On Friday, Maitiq renewed directing his accusation to what he described as "the absolute authority of the individual," referring to Al-Sarraj and his team in Al-Wefaq, considering it the cause of corruption.
He called, in a statement published on his page, on Friday, for Libyans to demonstrate and demand an investigation into the money spent, and the ways in which it was spent.
A member of the Presidential Council, Abdul Salam Kagman, joined the Mitig Front, few days ago, he sent a letter to Al-Sarraj in which he criticized his uniqueness in the decisions, especially with regard to the Investment Corporation, and confirmed that the Chairman of the Board of Trustees of the Libyan Investment Corporation is the Cabinet for all not Al-Sarraj in person.
Some Libyan analysts believe that those fights would intensify in the coming days. In a previous statement to the Libyan political analyst, Muhammad Al-Raeesh, said that "this conflict has become "more severe and may end with the collapse of the Council," which previously witnessed the resignation of a number of its members, due to the value of Abd al-Salam Kagman and Ahmed Maitiq, who are among the most important allies and friends of Al-Sarraj.