Tunisia: Abir Moussa "We have the right to rejoice at the humiliating exit of the Brotherhood"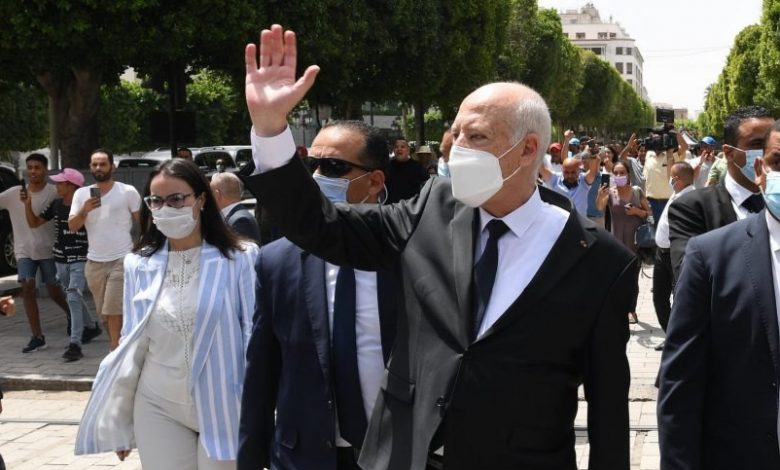 The head of the Free Constitutional Party in Tunisia, Abir Moussa, expressed her happiness at the dissolution of the Tunisian parliament by the country's president, Kais Saied.
Moussa said: "The parliament of the Brotherhood in Tunisia has been dissolved… We have the right to rejoice in the dissolution of parliament and the humiliating exit of the Brotherhood."
On Wednesday, Tunisian President Kais Saied announced the dissolution of parliament based on the 72nd chapter of the constitution, describing the parliamentary plenary session, which was held on Wednesday, as a "failed coup attempt."
"We were among the first to call for the withdrawal of confidence from Ghannouchi," Moussi said on the Free Destour Party's page.
Moussa indicated that the Brotherhood organization in Tunisia had bankrupted the country, and stressed that it had always adhered to the republican system and demanded that the Brotherhood be held accountable.
Earlier in the day, a number of members of Parliament held a virtual session, with the aim of ending the exceptional measures announced by the President of the Republic months ago.
This is the first session of the Tunisian parliament since Said's decision to suspend its work last summer.
Observers said that today's session is a new high-risk Brotherhood maneuver, aimed at spreading division among Tunisians and the Brotherhood's desperate attempts to threaten Tunisia's security and unity.
The maneuver of the head of the Brotherhood's Ennahda Movement, Rashid Ghannouchi, provoked reprehensible reactions from the actors within the political arena, as the Labor Union, the most representative organization in the country, confirmed, through media statements to its Secretary-General, Noureddine Taboubi, that they refuse to hold the parliament session suspended, and that they support the July 25 track. Where "there is no room for going back," he called on the head of state to turn the page on Parliament once and for all by dissolving it and calling for early legislative elections.