Tunisia and Greece call for consensual solution in Libya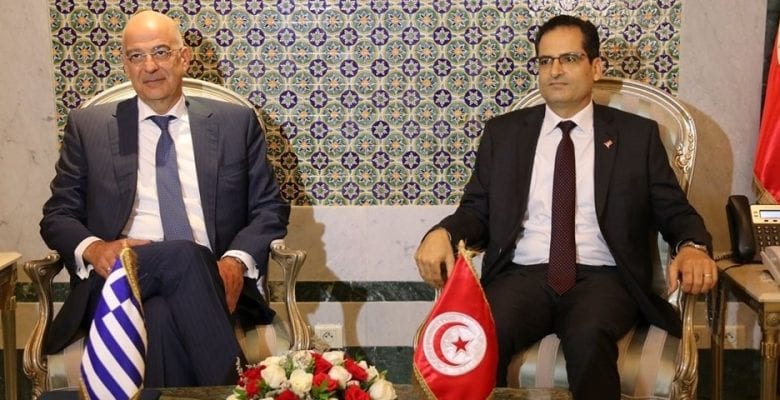 During the meeting, the two officials exchanged views on the situation in the region, particularly in Libya. They emphasised the positions of Tunisia and Greece which both favour a peaceful and consensual Libyan-led solution.
They expressed their countries' commitment to international legitimacy and to UN resolutions. They also rejected any foreign intervention.
Speaking to the press, Dendias said he agrees with his Tunisian counterpart that the solution to the Libyan crisis requires Libyan leadership without foreign interference or military intervention.
"Tunisia is capable of playing an active role in settling the Libyan crisis and in the region as a whole," he pointed out.
Greece is committed to working within the framework of international law and to the recommendations of the Berlin Conference, Dendias indicated.
"Turkey's interference in Libya is against the UN solution and could jeopardize the region's stability," he asserted.
The Greek Foreign Minister pointed out that he discussed with Erray several regional issues as well as Tunisia's relationship with the European Union.
He expressed his country's readiness to support Tunisia so as it overcomes its economic and development challenges.
Dendias spoke of Tunisia's success in containing the COVID-19 pandemic, calling for developing bilateral Tunisian-Greek relations in the political and economic fields.
Erray said that his meeting with Dendias discussed regional and international issues of mutual interest, mainly the Libyan crisis.
The two officials also looked at ways to boost cooperation in the mediterranean, particularly between Tunisia and the EU.
Regarding the Libyan crisis, Erray reiterated Tunisia's unchanged position regarding its commitment to the international law and for a peaceful and consensual solution among Libyans.
"Tunisia rejects any foreign interference or military solution in Libya. We are coordinating with international parties intervening in the crisis as well as neighboring countries, namely Algeria, so as to achieve the expected goals," he asserted.
Erray said that Tunisia remains is in touch with the Government of National Accord and with the various political institutions stated in the UN resolutions on international legality.
"As a non-permanent member of the Security Council, Tunisia is determined to make Libya's crisis settlement on the list of its top priorities during its mandate," Erray stressed.
The minister called on all political parties in Libya to show restraint and favor dialogue so as to preserve the Mediterranean region and make it a secure zone of exchange and shared living.
Both ministers stressed the need to develop economic and trade relations. The signing of the Tunisian-Greek agreement on sea transport cooperation is meant to boost trade, particularly of products for exporters and businessmen.
Erray and Dendias urged hastening the meeting of this year's bilateral events, namely the 11th Tunisia-Greece Joint Commission and preparations to organise the fourth session of political consultations between the two countries.