Tunisia president takes centre stage as he searches for new PM
Ghannouchi finds himself under fire after a controversial visit to Turkey.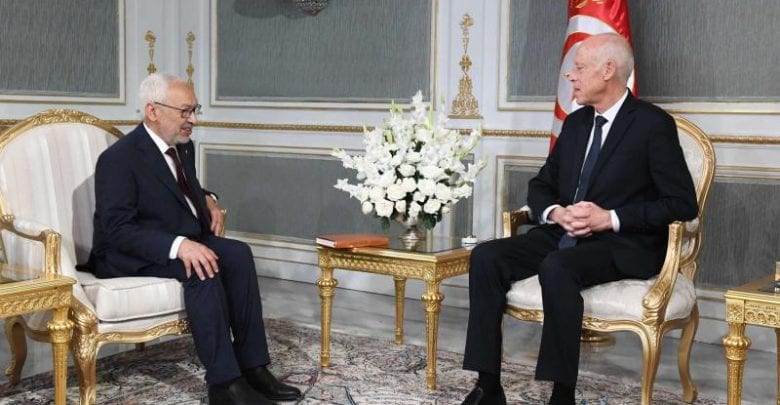 Tunisia President Kais Saied will select a prime minister after bickering political factions in parliament derailed the Islamist Ennahda Movement's drive to win a confidence vote for its designated head of government.
It is the first time parliament delivered a vote of no-confidence for a government since Tunisia democratic transition began in 2011.
The rejection of Ennahda's proposal to have former junior agriculture minister Habib Jemli lead the government dealt a blow to the Islamist party and highlighted its growing isolation in Tunisian politics.
The 217-seat parliament turned down the proposed government on a 134-72 vote. Even some MPs from Ennahda and its ally, the more radical Islamist Karama Coalition, were among those who voted against the Jemli  cabinet.
The vote left Tunisia in a political impasse, giving Saied, who ran for office as an independent, the role of a political broker.
Saied told political groups to "submit their written proposals" of candidates to form the next government. He was to select "the most able personality" from the lists or make his own selection.
Tunisia previously relied on political links between the president and Ennahda President Rached Ghannouchi who is also speaker of parliament, to put together a government but Ennahda's defeat in parliament weakened Ghannouchi's clout.
Ghannouchi has been dogged by opposition accusations of nepotism after he named allies to key positions in parliament. He also faced criticism from inside and outside the party for a "suspicious" meeting with Turkish President Recep Tayyip Erdogan one day after the no-confidence vote in parliament and amid a heated debate about Turkey's role in Libya.
Abir Moussi, president of the anti-Islamist Free Destourian Party, said Ghannouchi represented a "threat to Tunisia's national security and interests" after his meeting with Erdogan and called for removing him as speaker.
Majdi Boudhina, another parliament member from the Free Destourian Party, accused Ghannouchi of "plotting against Libya" in his meeting with Erdogan. "The meeting was a stab in the back of brotherly Libya," Boudhina said.
Erdogan has sought to provide military support to the Tripoli-based Government of National Accord, which is allied with Islamist militias, in its fight against the eastern-based Libyan National Army.
Ghannouchi defended his trips to Turkey by saying he met with Erdogan as leader of Ennahda. His deputies said the meeting was a "popular diplomacy" drive to bring in investment from Turkey.
Moussi's bid to remove Ghannouchi was backed by her most fierce rival in parliament, Samia Abbou of the centre-left Attayyar ad-dimokrati party. "Removing Ghannouchi from his position as a speaker is a national necessity," Moussi said.
Analysts said it was unlikely that the divided opposition would unseat Ghannouchi as a speaker but added that growing criticism directed at him and the Ennahda defeat in the confidence vote showed that Ghannouchi's strategy to shore up his power in the legislative branch had hit obstacles.
Some Ennahda officials are pushing to restructure the party leadership so Ghannouchi plays less of a prominent role ahead of a leadership congress in May.
Following Ennahda's defeat in parliament, three officials, including Hichem Laarayedh , a member of the party's policymaking Shura Council and son of former Prime Minister Ali Laarayedh, who is a candidate to replace Ghannouchi, resigned from the party.
"Their resignation is a huge loss for Ennahda," said senior Ennahda official Yamina Zoglami.
Ghannouchi's planned power build-up was aimed at Saied, who advocates a system of direct democracy and revamped presidential powers that could challenge the constitutionally sanctioned system of government and Ennahda's hold on power.
Tunisian law stipulates that Saied has until January 21 to select a replacement for Jemli to build a coalition able to win a majority in parliament. If the impasse drags on, snap parliamentary elections could be called by the end of February.
Ennahda resisted proposals by other groups to form a "government of the president" but its defeat ushered in a political realignment, including rapprochement between former rivals, caretaker Prime Minister Youssef Chahed, who leads the Tahya Tounes party, and media tycoon Nabil Karoui, who heads the Qalb Tounes party. This prompted speculation that the move could bring forward a broad coalition of parties to isolate Ennahda.
Chahed previously bashed Qalb Tounes as "the macaroni party," a dig at Karoui for handing out food aid to the poor in what Chahed believed was a ploy to gain support.
Qalb Tounes called Chahed a "dictator" and accused him of helping orchestrate Karoui's detention ahead of presidential elections last year. Karoui was detained for 48 days on accusations of tax evasion and money laundering on years-old charges.
Tunisia political landscape remains fractured, with more than 120 parties driven largely by personalities rather than platforms, as the public grows increasingly disillusioned with a struggling economy. 
With Ghannouchi set back by his troubles in parliament and within his party, there appears to be an opportunity for Saied to assert his leadership.
Saied, who is the country's first democratically elected president to have gained more than 70% of the vote, will face no significant opposition from most political parties, whose leaders and MPs do not want to wager their current gains in snap elections.
"The political parties that defeated Ennahda and foiled its bid to form a government will walk on eggshells concerning the choice of the next prime minister by President Saied," said political writer Marouen Achouri. "The interests of the parties dictate to their leaders to be accommodating of the president."