Tunisian President affirms his country's support for the Palestinian case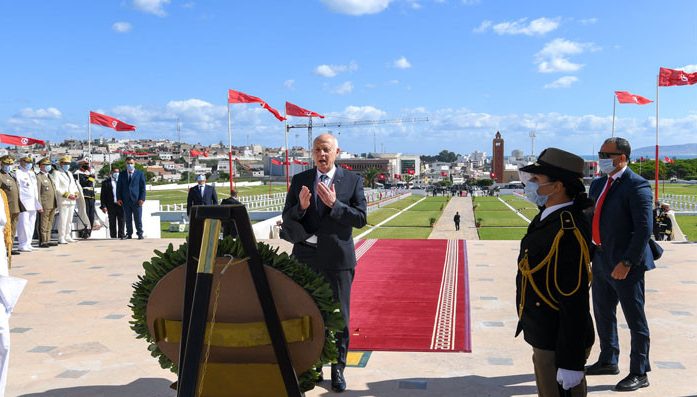 Tunisian President Kais Saied has reaffirmed his country's steadfast support for the Palestinian cause, particularly in light of the heinous Zionist aggression on Gaza and the West Bank.
On Sunday, Tunisia announced the dispatch of a military plane carrying 12 tons of medical and health supplies for the Palestinian people. The Tunisian Presidency stated in a press release, "A military plane took off this morning, loaded with approximately 12 tons of medical and health supplies, as well as baby formula, for the benefit of our Palestinian brethren."
The statement also noted that this shipment is part of what President Kais Saied authorized on October 9th for various state bodies and the Tunisian Red Crescent to support the Arab people in Palestine. Tunisia plans to continue organizing further flights to stand in solidarity with the Palestinian people.
During an event marking the 60th anniversary of the Nakba at the Martyrs' Square in Bizerte, President Saied stated, "We will work towards Palestine's independence, the return of the refugees, and their ability to live free of those who kill the Palestinian people."
He added, "Tunisia's flag will continue to be raised everywhere, and we will work to raise Tunisia's voice because we are advocates for justice. We have fundamental principles that we will never deviate from, and we will not live in humiliation."
Earlier, during his meeting with the President of the House of People's Representatives, Ibrahim Bouderbala, President Saied stressed that the crimes committed today and over the past century against the Palestinian people demonstrate the need for a new order in the entire region. He emphasized that all the free people of the world should stand against this new order for the Middle East.
Saied also stated that the Zionist movement, which portrayed itself as a victim while committing heinous crimes, raises the question, "Why doesn't the world look at infants and children who are dead or injured under the rubble?"
He considered that the Zionist movement had worked for decades to instill defeat in the Arab people, to turn defeat into a culture where they surrender, but the Palestinian people continue their struggle, and the Arab nation will not accept anything other than victory as an alternative.
The speaker emphasized that the position expressed by the Tunisian people demonstrates that our culture, principles, and constants are all based on a firm commitment to rejecting all forms of injustice and colonization.