Turkey at crossroads as EU, US consider sanctions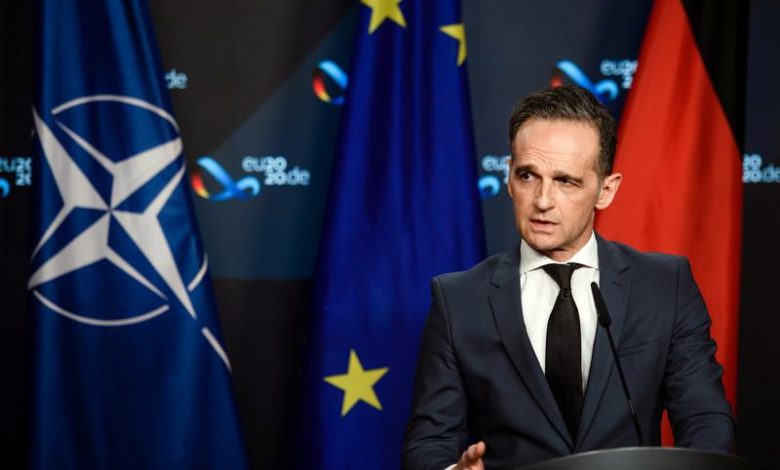 Turkey is facing one of its biggest challenges in recent times: The threat of punitive measures from its European neighbors and US ally over what is seen as its disruptive, provocative and destabilizing policies, as well as playing into the hands of Moscow.
EU foreign ministers met in Berlin on Monday, ahead of a European leaders' summit on Thursday, and they paved the way for carefully planned measures against Ankara that could include sanctions and an arms embargo. The main issue here is Turkey's infringement on the sovereignty of two EU member states — Greece and Cyprus — in the eastern Mediterranean, where Ankara has sent vessels to explore for gas in what it says are contested maritime areas. Turkey's dismal human rights record will also feature in the talks.
Meanwhile, during a virtual NATO foreign ministers meeting a week ago, US Secretary of State Mike Pompeo launched what was described as a parting shot against his Turkish counterpart, Mevlut Cavusoglu, accusing Ankara of undermining NATO's security and creating instability in the eastern Mediterranean. He reportedly chided Turkey for sending paid Syrian fighters to Libya and for intervening in the Nagorno-Karabakh conflict. He said that Turkey's purchase of the Russian S-400 air defense system was "a gift" to Moscow.
Also last week, the US Senate approved a final version of the annual defense policy bill, which mandates the president to sanction Turkey for its acquisition of the S-400. President Donald Trump had previously opted not to punish Ankara for its 2017 purchase of the Russian system, which NATO claims is designed to target the sophisticated F-35 fighter aircraft. Turkey was removed from the F-35 program as a result.
Pompeo's harsh language against Turkey signaled a departure from the vague and tolerant approach that Trump had adopted over the controversial policies of President Recep Tayyip Erdogan with regard to his close ties to Russia and Iran and his roles in Syria and Libya.
Erdogan is worried about the EU's growing hostility. Last month, while playing down the effect of sanctions on his country, he declared that Turkey, which continues to jockey for EU membership, sees itself as an inseparable part of Europe but will not give in to attacks and double standards. Germany has been trying, with little success, to ease the tensions between Erdogan and French President Emanuel Macron, which in recent weeks have got out of hand.
Both men, facing domestic challenges, have tried to demonstrate a greater regional outreach. They differ on Syria, Libya, political Islam, Ankara's ties to Moscow and its effect on NATO's unity, and now the conflict between Turkey and Greece. Amid heated verbal exchanges, Erdogan last Friday called on the French  to dump their leader at the ballot box in 2022, when Macron is expected to seek re-election.
However, Erdogan's aides have sent conciliatory signals to Brussels ahead of this week's EU summit.
The leaders will try to avoid a head-to-head clash with Turkey. If approved, the sanctions will be measured and conditional on future provocations by Turkey. A crisis with the EU will have a negative impact on the unity of NATO. Erdogan recently suggested that the North Atlantic alliance should replace Turkey's military presence in Libya — a suggestion that did not find many takers.
Ankara will have to choose whether it wants to be an integral member of NATO or stand with Russia and Iran. It cannot do both.

Osama Al-Sharif
There is no doubt that, with Trump's imminent departure from the White House, Erdogan knows that Washington's behavior toward his country and on other regional issues will change dramatically. The next president, Joe Biden, will seek to rebuild America's military and commercial alliance with the EU.
NATO will once more emerge as the cornerstone of that alliance. Turkey will have to choose whether it wants to be an integral member of NATO or stand with Russia and Iran. It cannot do both.
Erdogan's domestic challenges — a growing opposition even among former allies, a struggling economy, a bleak human rights record, and costly regional adventures — will come back to haunt him.
Despite his maverick style, Erdogan is a pragmatist at heart and he is unlikely to sacrifice his country's relationship with Europe, as Turkey is the EU's fifth-largest trading partner. Furthermore, the US and Europe will not accept further Turkish infringements on the sovereignty of Greece and Cyprus, and will seek to put additional pressure on Ankara to accept a negotiated settlement.
The chances are that we will see a less defiant Erdogan in the coming weeks — one who will reconsider his country's long-term regional priorities and interests, its relationships with its neighbors, and its strategic alliances as the US reverts to multilateralism under Biden. In response to the latest Turkish overtures, EU foreign policy chief Josep Borrell attempted to reciprocate by stating last week that the EU and Turkey share a "common interest in developing a good neighborhood." He added that the EU leaders had decided to seek engagement with Turkey and evaluate the situation according to whether a more positive approach would be seen from the Turkish side. The ball is now in Erdogan's court and his next move will be crucial to his own political survival.