Turkey: Erdogan regime crises …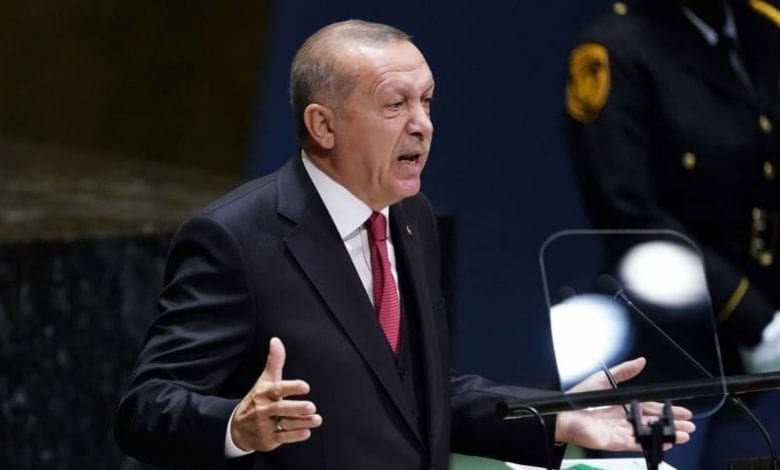 Calling Turkey's relationship with the West "increasingly protracted" is an understatement, and would better be called "labyrinthine," Former European Union Ambassador to Turkey Marc Pierini wrote in a report for the Hellenic Foundation for European Foreign Policy (ELIAMEP).
While the movement was instrumental in the AKP 2002 winning elections, Pierini continued, Gülen's followers allegedly led a corruption probe that included several top-ranking AKP officials and ministers, even members of then-Prime Minister Recep Tayyip Erdoğan's family.
Turkey's governance took a sharp turn toward autocracy following the Justice and Development Party's (AKP) 2013 fallout with the Gülen movement, led by preacher Fethullah Gülen who lives in self-imposed exile in the United States and lauded in the first decade of AKP's rule as a moderate Islamic voice, Pierini wrote.
The schism evolved into a full purge after the failed coup attempt of July 15, 2016, which Turkey holds Gülen responsible for having organised. Some 60,000 people have been imprisoned and 150,000 public servants sacked under the two-year State of Emergency period that followed.
"The march toward an autocratic regime was institutionalized with the April 2017 constitutional referendum," Pierini said, referring to when Turkey abandoned its parliamentary system in favour of an executive presidential one that bestowed immense powers to Erdoğan, who was already serving in the then-symbolic office of the President since 2014 and won his second election in 2018.
In the meantime, Turkey's drift away from the rule of law was observed via several high-profile lawsuits, including that against philanthropist Osman Kavala, where the indictment "mirrored exactly the presidential narrative." Pierini said:
"Overall, from a Western government standpoint, Turkey is today a full autocracy, where the basic constitutional architecture and legal practice doesn't match the country's commitments in the Council of Europe or the North Atlantic Alliance."
Having seeked an equidistant position between the world's largest powers, Turkey has distanced itself from the EU "as soon as the short-term benefit of … depriving the army of any military role was pocketed," while balancing weapons systems from NATO and Russia, and "become (again) a power in the middle of great powers," he said in the report.
"On the foreign policy side, seen from a Western standpoint, Turkey's choice of equidistance from the largest world powers has resulted in a bipolar foreign policy," the report continued, giving the country's relationship with NATO as an example.
There has been a serious breach of confidence between the two, and if NATO does not sanction or exclude Turkey altogether, "these policy decisions and the aggressive accompanying narratives mean that NATO is in effect taken hostage of Turkish politics and is suffering structural consequences."
Hostility with the West – Turkey bussing migrants to the Greek border or arresting American Pastor Andrew Brunson, for example – is seen as useful for domestic politics, but often result in Turkish policymakers vastly underestimating the reaction, the report said.
Meanwhile, following Erdoğan's election for a second term with fortified authority, the AKP lost nine prominent municipalities in the 2019 local elections, including capital Ankara and megacity Istanbul – where predecessors of the ruling party had governed for more than two decades. Since then, Pierini said, Erdoğan's prestige took a significant hit and credible alternative politicians emerged in the Turkish scene, including Istanbul Mayor Ekrem İmamoğlu, Ankara Mayor Mansur Yavaş, and former minister in AKP governments Ali Babacan, who formed his Democracy and Progress Party (DEVA) last year.
The Turkish economy has continued its downward trajectory since 2018, with the COVID-19 pandemic not making the government's job any easier – especially under such low trust in economy management, Turkey's reliance on EU and other foreign markets, and the top-down imposition of unfit policies under the presidential system.
Misguided political decisions, for instance the purchase of Russian-made S-400 missile defence systems, have "induced a substantial disconnect of Turkey's economy from its Western anchor," he said.
The country's military reach will substantially increase from 2021 onwards, Pierini said, as the long-planned build-up is implemented in the form of more advanced weaponry acquisition and development, as well as deployment in addition to the current locations of northern Cyprus, Syria and Libya.
However, he continued, such developments are not perceived as a strategic asset for NATO due to Turkey integrating Russia in its air force, undercutting the Western effort against the Islamic State (ISIS), the country's apparent support for the Muslim Brotherhood-supported groups if not the brotherhood directly, disputes with Greece, and its nationalist doctrine of the Blue Homeland in its seas – all "framed in a carefully constructed 'conquest narrative."
Combined, Turkey's narratives have largely defined it "as a problematic ally of the West," Pierini said. Still, Turkey's economy will continue to be anchored in the EU and the West for a long time, and while accession to the bloc is "forever dereailed," there is a need to define some form of relations. The report concluded:
"Relations between Turkey and the West, especially the European Union, hold an immense potential in multiple fields, from economy to education, from culture to security. Geography will not change; it simply renders a mutual understanding necessary."