Turkey exploits coronavirus pandemic, supplies terrorists with weapons: African newspaper
An African newspaper revealed that the Turkish government is exploiting the Corona crisis to import weapons from some African countries, to distribute them to its terrorists in Syria and Libya.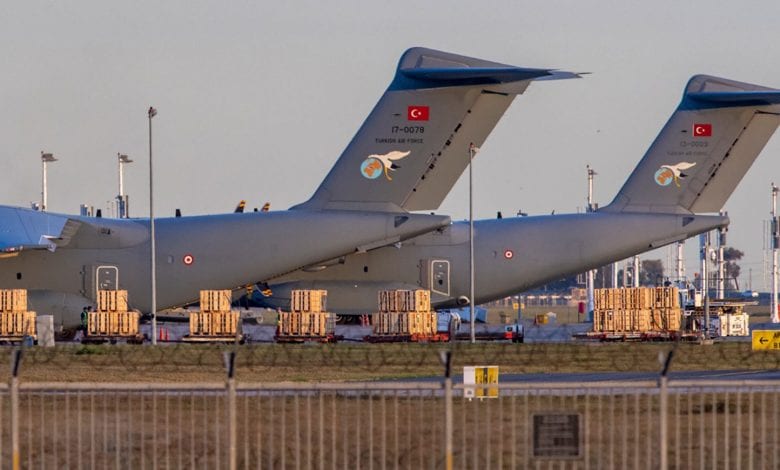 The recent arms shipments that South Africa sent to Turkey have overshadowed the United Nations' call for a ceasefire in both Syria and Libya during the coronavirus outbreak," the African Daily Maverick said.
The newspaper quoted the "South African" coordinator of World Beyond War Terry Crawford Brown, "It is ridiculous, that South Africa claims to have responded to the call of the United Nations Secretary-General Antonio Guterres for a ceasefire due to the outbreak of coronavirus."
"The South African Arms Trade Regulatory Authority failed to authorize it to control arms exports to Turkey, as it is suspected that these munitions were allocated for use in Libya or Syria," the newspaper said.
The same newspaper revealed that the Turkish government exploited the coronavirus crisis to import weapons from some African countries to distribute them to their terrorist militias in Syria and Libya, after sending military aircraft claiming to provide health assistance to counter the coronavirus to some countries that did not record a single case of infection, and then returned loaded with arms.
The newspaper said that the military cargo planes that Turkey sends with medical and preventive supplies to many countries to help them overcome the coronavirus crisis, Turkey is exploiting for hidden purposes in connection with sending and exchanging weapons and military equipment in order to support terrorist groups with ties to the authority in Turkey.
The newspaper spoke about the landing of several Turkish military cargo planes in the southern African city of Cape Town, but only one of these planes was carrying relief supplies, while two additional planes arriving from Somalia arrived in South Africa, "These Turkish military aircraft landed in a city "Cape Town" and returned to Turkey loaded with weapons and military equipment. "
Turkish Ambassador Elif Ulgen confirmed earlier that the shipment was a military ammunition purchased from the Rheinmetall Denil Monetization (RDM) but said that most of it would be used for military exercises inside Turkey, but the newspaper said that those munitions were intended for use in Syria and Libya.