Turkish charm offensive seeks to ensure energy security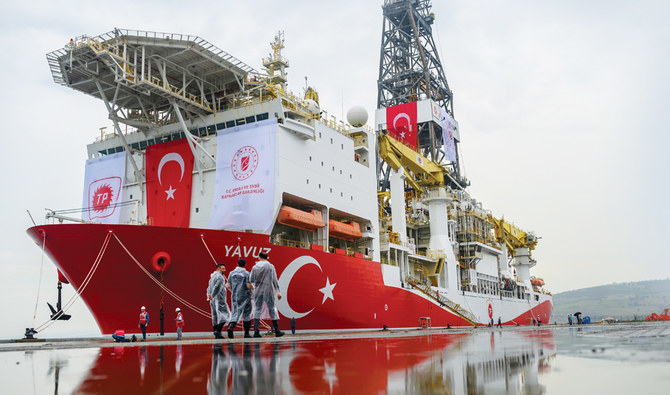 Turkey is endowed with indigenous energy sources, but they are mostly dirty and inefficient coal. Accounting for 35 percent of the country's energy production, it is an important fuel for electricity generation. However, with Turkey hoping to meet the EU's 2050 targets on emissions, it must look beyond its go-to sources. There is also a more pressing need for Turkey to seek energy security after its currency lost more than 40 percent of its value against the US dollar last year and consumer price inflation topped 48 percent last month, leaving the country struggling to avoid a major economic crisis. Amid serious concerns over the economy, President Recep Tayyip Erdogan has decided to reengage with erstwhile adversaries, while simultaneously seeking to place Turkey at the center of Eurasian energy deliberations.
Geopolitical tensions ensured no love was lost between Turkey and the UAE over the last decade, but Ankara, dogged by soaring inflation and a sagging lira, has sought a thawing of the cold war between them. Since the end of 2020, Turkey has reached out to Riyadh, Cairo and Abu Dhabi in an effort to recalibrate strained relations. During last November's first state visit to Turkey in a decade, the UAE announced a $10 billion fund. Aside from the defense industry, it will crucially support the energy sector.
This is in addition to a deal between Abu Dhabi Development Holding, known as ADQ, and the Turkish Kalyon Group that is focused on energy infrastructure, as well as a strategic cooperation agreement between ADQ and the Investment Office of the Turkish Presidency concerning "investment and cooperation in the fields of petrochemicals and existing and new projects for renewables of up to 3 GW."
Fatih Aydin, partner at Blue River Capital, underscored the importance of such investments. "Making friends will help the economy benefit from the FDI (foreign direct investment) and 'fast money' coming into the country. Invested in dollars, this much-needed foreign currency will go some way to strengthening the lira against the dollar and have a domino effect on international investor confidence and predictability. The medium-term consequence of this will have a major impact upon inflation, alleviating the strain on consumer prices," he said.
Though both Ankara and Abu Dhabi have found the Biden administration to be lukewarm in its approach to them (which may explain their current meeting of interests), Turkey has been active elsewhere. While it maintains robust trade with Israel, Erdogan has harshly criticized his Israeli counterparts on the Palestinian issue and the relationship has been fraught at times. However, with Erdogan set to host the Israeli president next month, a pending rapprochement has raised eyebrows. Energy concerns lie behind this drive, as Turkey is currently dependent on imports from Russia and Iran and needs to diversify its sources.
The discovery in recent years of huge natural gas reserves in the Eastern Mediterranean has exacerbated geopolitical tensions between Turkey and its neighbors.
Concerned with Eastern Mediterranean cooperation on gas exploration and future exports that do not involve Turkey, it now wants to reach an agreement with Israel on gas imports both for domestic use and subsequent export to Europe.
Following last month's US withdrawal from the expensive and unfeasible EastMed pipeline that planned to transport gas from Israel and Cyprus to Europe via Greece, Turkey now sees an opportunity to enhance its status as an energy hub by angling for a pipeline from Israel to Turkey via Cyprus.
The current outreach to Israel is not rooted in monetary challenges or indeed Turkey finding itself outmaneuvered by the Abraham Accords, but rather Ankara is seeking to sideline the growing strategic partnership between Israel, Greece, Cyprus and Egypt, which threatens to circumvent it.
Turkey is currently dependent on imports from Russia and Iran and needs to diversify its sources.

Zaid M. Belbagi
The current standoff between Russia and Ukraine has provided an opportunity for Turkey to endear itself to its NATO allies. The situation has brought home the importance of the alliance, which Turkey, though part of, has at times disregarded from its foreign policy deliberations.
This is particularly important at present because, while Turkey has been an ally to Western countries for more than half a century, the US, the UK and the EU have imposed sanctions on Ankara in response to its violation of international sovereignty laws and illegal drilling, which has angered Greece and Cyprus.
To this end, Ankara has sought to underscore its purpose within NATO as its eastern bulwark, most recently making its Bayraktar TB2 unmanned aerial vehicles available to Ukraine, while also planning to provide other types of equipment for offensive use. Meanwhile, Greece's offer of the Souda Bay and Alexandroupoli bases for refueling is the limit of its appetite and capability to support NATO amid the crisis brewing in the Black Sea, providing an opportunity for Ankara to show its importance and to distance itself from the controversial purchase of the Russian S-400 missile defense system that impacted its relationship with the alliance.
This flurry of diplomatic outreach highlights the marked change in course from Turkey's previous pursuance of regional hegemony. Rapprochement with the UAE, Egypt and Israel is intended to rebalance Turkey's foreign relationships.
Current talks with the Kurdistan Regional Government are intended to increase gas imports. Through the existing Kirkuk-Ceyhan oil pipeline, the planned Baku-Tbilisi-Erzurum gas pipeline and discussions with Israel, Turkey hopes to increase its geopolitical influence while keeping up with growing domestic energy demand.
Ankara's energy relationships with Iran and Russia are troublesome — though they are currently cordial, they have historically been Turkey's most contentious. This is not lost on Erdogan, who has been vocal in his desire to mend ties. However, just as he hopes that Turkey's new friends ignore the strategic considerations of putting all-important gas faucets in Turkish hands, many wonder what else Ankara seeks to gain from its new-found friendliness.
• Zaid M. Belbagi