Turkish Interior Minister's Süleyman Soylu insult to opposition deputy prompts fist fight in parliament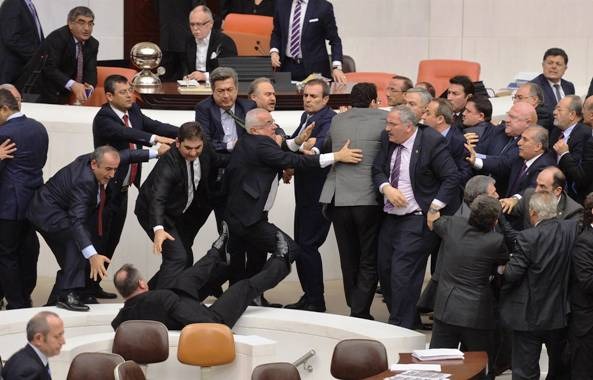 Turkish Interior Minister Süleyman Soylu's insult to an opposition deputy has prompted a fist fight in parliament between AKP and CHP lawmakers.
Main opposition Republican People's Party (CHP) deputy Erkan Aydın was giving a speech in parliament during talks for the 2022 budget of the Industry and Technology Ministry and the Interior Ministry on Dec. 8 when he asked Soylu why he used a plane belonging to a shady businessman accused of money laundering. 
Aydın also showed a picture of the minister on the plane, prompting Soylu to slam the deputy. 
"You're lying! You are a liar," Soylu said, triggering a fight between CHP and ruling Justice and Development Party (AKP) deputies.  
Last month, several brawls erupted during budget talks in parliament, mostly in those including Soylu. 
Turkey's parliament is no stranger to brawls, with almost all talks getting marred by fights.