Turkish parliament revokes parliamentary status for three opposition deputies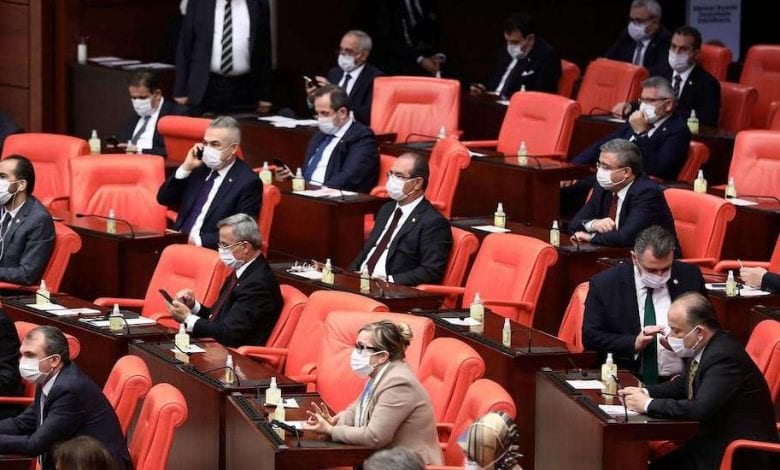 Turkish parliament has stripped three opposition deputies of their parliamentary membership in Thursday's general assembly session.
Parliamentary Deputy Speaker Süreyya Sadi Bilgiç from the ruling Justice and Development Party (AKP) read out presidential notices against the deputies, completing the procedure to revoke their memberships.
CHP's Deputy Speaker Engin Altay said the reading out of the notices was against parliamentary procedure and called the revocation a "coup against the will of the people," while HDP's Deputy Speaker Meral Danış Beştaş said judges who presided over the cases against the HDP lawmakers had later been arrested on terrorism charges themselves, casting a shadow over their neutrality.
The deputies, Enis Berberoğlu from main opposition centre-left Republican People's Party (CHP), and Leyla Güven and Musa Farisoğulları from the pro-Kurdish left-wing opposition Peoples' Democratic Party (HDP), had finalised court orders against them over charges of espionage and terrorism.
Opposition lawmakers in the session protested the move, calling for solidarity and chanting against what they called fascism and a coup.
"The reading out of the court orders should have been extended to the end of the term," HDP deputy Ömer Faruk Gergerlioğlu said in a tweet.
https://t.co/0rugY0Wwnx

— Ömer Faruk Gergerlioğlu (@gergerliogluof) June 4, 2020
"Revoking Enis Berberoğlu's parliamentary membership is a result of the July 20 Civilian Coup process we are living through, it is disregarding the will of the people. We will continue our struggle for democracy to establish justice and rights," CHP leader Kemal Kılıçdaroğlu said, referring to the State of Emergency declared following the coup attempt on July 15, 2016.
Enis Berberoğlu'nun Milletvekilliğinin düşürülmesi, içinde yaşadığımız 20 Temmuz Sivil Darbe sürecinin bir sonucudur, millet iradesinin yok sayılmasıdır. Adaleti, hakkı ve hukuku sağlamak için demokrasi mücadelesine devam edeceğiz.

— Kemal Kılıçdaroğlu (@kilicdarogluk) June 4, 2020
"This decision was not a surprise for me," Enis Berberoğlu told reporters. "Because there is no improvement in the conditions for democracy in Turkey. It would have been wrong to expect the democratic lottery to spare me."
Berberoğlu was originally convicted of revealing  government secrets in 2017 over revealing to the public images of what appeared to be weapons shipments allegedly by Turkish intelligence officials to Syrian rebels.
Turkey's parliament has removed our MPs Leyla Güven and Musa Farisoğulları's parliamentary membership in an unlawful step. Güven & Farisoğulları represent the will of millions. Revocation of their parliamentary seats will not intimidate us and our peoples! #MeclisteDarbeVar pic.twitter.com/0PO0BFux0h

— HDP English (@HDPenglish) June 4, 2020
"Coups don't only happen with weapons," Leyla Güven said. "Frankly, we will (continue to) face with a government that enacts new coups against the will of the Turkish people every day through such practices to keep themselves afloat, as long as the Kurdish issue is not democratically resolved."
Güven was placed in pre-trial detention in January 2018 for a year over allegations of terrorism, including for speaking out against Turkey's incursion into the northern Syrian province of Afrin. She was elected to parliament while in prison, and later went on a hunger strike that lasted 200 days, protesting tprotesting conditions of political prisoners and Abdullah Öcalan, the jailed leader of the outlawed Kurdistan Workers' Party (PKK), inspiring thousands of inmates in prisons throughout the country to join in. 
The three deputies were the first ones to be stripped of their parliamentary status in the current term, but between 2015 and 2018, 11 HDP deputies, including former co-chair Figen Yüksekdağ, had their parliamentary status similarly revoked.
A total of 27 deputies from several pro-Kurdish parties have been stripped of their parliamentary status since 1994, HDP said in a statement.
Courts had been able to try members of parliament following the lifting of immunities for 138 deputies, including Berberoğlu himself, in 2016 by the AKP's proposal.
The immunity bill went against the constitution, Kılıçdaroğlu said at the time, as he announced that his party would vote in favour.
"The main reason (behind the bill) is to put HDP members on trial. If we say no, (the government) will say that we are in cahoots," Kılıçdaroğlu had said in a televised debate on April 14, 2016. "(The bill) goes against the constitution in any case. Surely somebody will appeal to the constitutional court during the trial of a parliamentarian."