Two Palestinians Martyred after IOF Raid on Nour Shams Camp
Local sources report that an Israeli soldier was wounded during a raid on the Nur Shams refugee camp in Tulkarm.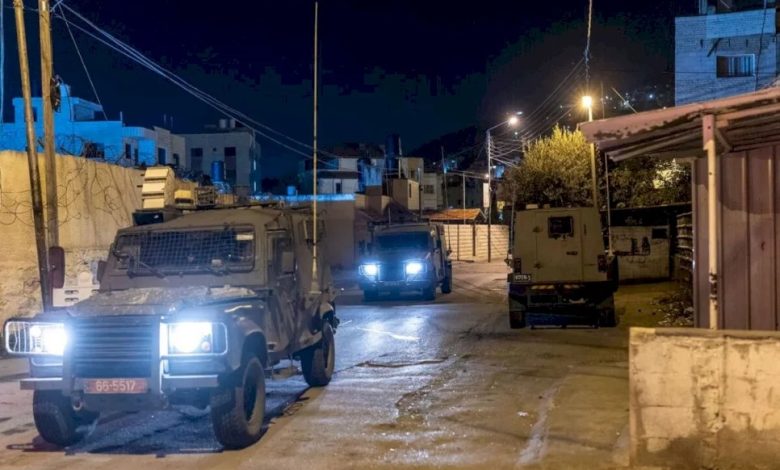 In the early hours of Sunday morning, two Palestinian youths were martyred (and an Israeli soldier was wounded) during a large-scale raid by Israeli occupation forces into the Nur Shams refugee camp in eastern Tulkarm. The raid was accompanied by a significant presence of military bulldozers.
Medical sources reported the martyrdom of Aseed Farhan Abu Ali (21 years old) and Abdul Rahman Suleiman Abu Daghash (32 years old), who succumbed to live gunfire wounds to their heads.
The Israeli occupation bulldozers began to raze the main street of the camp, causing extensive destruction, while Israeli snipers took position on the rooftops of Palestinian homes.
The Israeli forces had launched the incursion into the camp in significant numbers, accompanied by military bulldozers, amid heavy gunfire. They proceeded to dismantle the main street and the camp's infrastructure while Israeli snipers occupied the rooftops of residents' homes.
In a statement, the al-Quds Brigades – Tulkarm Brigade announced that their fighters targeted the invading Israeli forces in Nur Shams camp with intense gunfire, inflicting direct casualties and damaging several Israeli military vehicles during their defense of the camp.
Earlier this month, a Palestinian man was martyred and another was injured in violent confrontations with the Israeli Occupation Forces (IOF),  as they stormed the Nour Shams camp in Tulkarm in the Occupied West Bank.
Local sources in the area reported that the Israeli forces withdrew from Nur Shams camp in Tulkarm City after more than four hours of pillaging. During the withdrawal, one of the Israeli military vehicles was struck by an explosive device, causing further chaos in the aftermath of the operation.
Ayed Abu Harb (21 years old), was shot in the head by the IOF while another was severely injured.