U.S. President Expresses Strong Support For Finland, Sweden Membership in NATO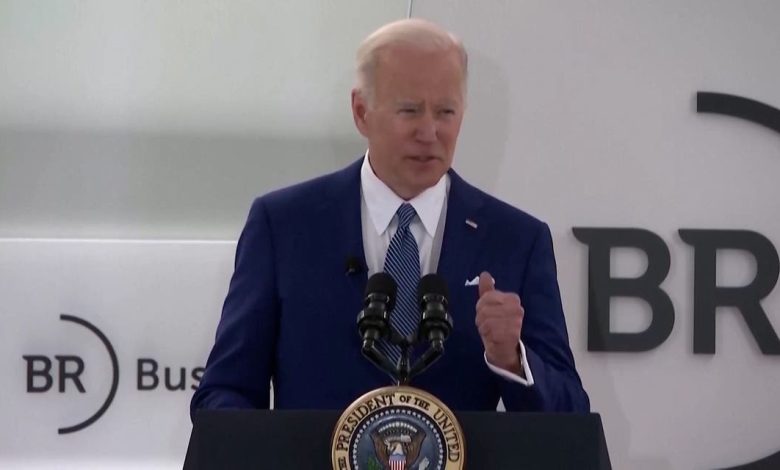 President Joe Biden has strongly backed the bids of Finland and Sweden to join NATO in the face of Russia's invasion of Ukraine and said the United States will remain vigilant against any threats to their security.
"I warmly welcome and strongly support the historic applications from Finland and Sweden for membership in NATO and look forward to working with the U.S. Congress and our NATO Allies to quickly bring Finland and Sweden into the strongest defensive alliance in history," Biden said in a statement on May 18.
The statement came after Finland and Sweden handed in their official applications for NATO membership, ending their longtime neutrality amid growing concerns over Russia's military aggression against Ukraine.
Biden said while the bids are considered the United States "will work with Finland and Sweden to remain vigilant against any threats to our shared security, and to deter and confront aggression or the threat of aggression."
NATO Secretary-General Jens Stoltenberg, speaking earlier in Brussels, also welcomed the move.
"The applications you have made today are an historic step. Allies will now consider the next steps on your path to NATO," Stoltenberg said.
The two Nordic countries' choice to join NATO marks a watershed in the current European security architecture.
Both Sweden and Finland are members of the European Union, and the latter shares 1,340 kilometers of border with Russia.
Helsinki chose to remain neutral in the postwar era following two wars with the Soviet Union that saw Finland lose one-tenth of its territory, while Sweden has been traditionally nonaligned for the past two centuries.
The application has set in motion a process that is expected to move quickly, although Turkish President Recep Tayyip Erdogan has expressed reservations about Finland and Sweden joining.
Erdogan said on May 16 he could not agree to the accession of two countries that support "terrorist organizations," a reference to the banned Kurdistan Workers' Party (PKK) and the Kurdish militia People's Defense Units (YPG) in Syria.
But Turkey sent mixed signals after a meeting on May 18 between U.S. Secretary of State Antony Blinken and Turkish Foreign Minister Mevlut Cavusoglu.
The Turkish minister affirmed his country's support for NATO's "open-door" policy and its understanding of Finland and Sweden's desire to join the alliance, but he also repeated Erdogan's demands.
"With regard to these candidate countries, we have also legitimate security concerns that they have been supporting terrorist organizations and there are also export restrictions on defense products," he said.
"We understand their security concerns but Turkey's security concerns should be also met and this is one issue that we should continue discussing with friends and allies, including the United States," Cavusoglu said.
Blinken stressed that Washington would work to ensure the NATO expansion process is successful.
"Today we had Finland and Sweden submit their applications and this, of course, is a process and we will work through that process as allies and partners," Blinken said.
A joint statement released after the meeting did not mention Finland or Sweden and made only a passing reference to NATO.
The statement said the two men met "to reaffirm their strong cooperation as partners and NATO allies" and committed "to deepen bilateral cooperation through constructive and open dialogue."
If Turkish objections are resolved, the two Nordic countries could become members within a few months, fast-forwarding a process that usually takes eight to 12 months.
NATO wants to speed up the accession process given the two countries' proximity to Russia and Moscow's unprovoked invasion of Ukraine.