United States Embassy in Athens firebombed in protest over the death of George Floyd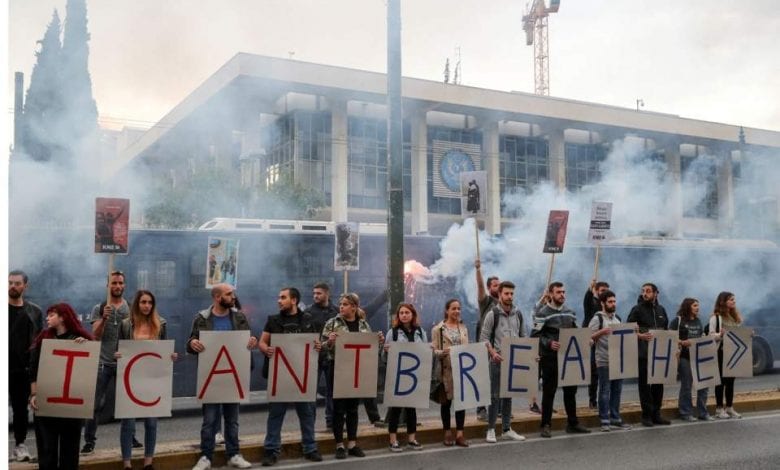 Demonstrators in the Greek capital attacked the U.S. Embassy with Molotov cocktails.
The firebombs were hurled during a protest on Wednesday over the killing of African-American George Floyd by police in Minneapolis.
Our journalists saw demonstrators throw several flaming objects which erupted into flames on the street towards the heavily-guarded embassy in central Athens. Police responded with rounds of teargas.
Demonstrators were holding banners and placards reading "Black Lives Matter" and "I can't breathe".
The embassy itself was cordoned off with rows of blue police buses.
Police sources estimated the number of protesters were more than 3,000.
Meanwhile, Greek-American Las Vegas police officer Shay Mikalonis remains on life support at the University Medical Center after being shot in the head late on Monday night in the midst of riots gripping many American cities.
The shooting against the 29-year-old Greek-American happened approximately 11:30 p.m. as a group of rioters were throwing rocks and bottles at officers.
A local Black Lives Matter group, responsible for organising many of the protests in the casino city, has been urging people to protest peacefully.
In a bid to quell the violence, U.S. Attorney Nicholas A. Trutanich and U.S. Marshal Gary Schofield said "federal law enforcement will investigate, apprehend, and charge violent criminal instigators and organisers who have taken over peaceful protests and violated federal law."
Trutanich specifically referenced the shooting of Mikalonis as an example of the type of crimes that could result in much harsher federal charges.
"Last night, violence in Las Vegas resulted in the senseless shooting of a police officer while he was protecting our community," said Trutanich. "Our thoughts are with the officer and his family. The right to peacefully protest and demonstrate is among the most fundamental rights held by all Americans. Violence and looting not only interferes with that right, bu they also put lives at risk. Defying those peacefully exercising their First Amendment rights, and diverting focus away from the legitimate outrage over Mr. (George) Floyd's death are unacceptable."