Unrest deepens in Tunisia's southern Tataouine region
Ennahda, which led negotiations with protesters in 2017 and took credit for "resolving" the crisis, is now accused of attempting to embroil Fakhfakh's government in the thorny file.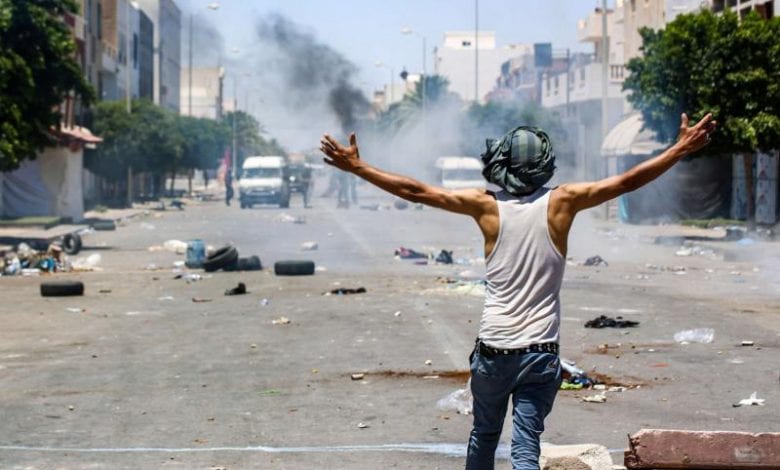 Unrest at a protest camp in Tunisia's southern Tataouine region increased on Sunday after young protesters demanding jobs in the energy sector blocked roads with burning tyres after the arrest of an activist, prompting security forces to respond with tear gas.
For weeks, demonstrators in Tataouine have been asking authorities to make good on a 2017 promise to provide jobs in the gas and oil sector to thousands of unemployed young men.
The recent protests, which had first been largely peaceful, turned violent after the arrest of an activist "wanted" by the authorities, Tataouine's Governor Adel Werghi told a local radio station.
The activist was identified as Tarek Haddad, the spokesman for the protesters.
Witnesses in the region said protesters demanding Haddad's release set tyres ablaze and pelted security forces with stones.
Soon after, security forces responded with tear gas and the situation remained tense with intermittent clashes throughout the day.
In a statement, the Interior Ministry said 10 people were arrested after a group of protesters "tried to attack police stations with Molotov cocktails."
The governor of Tataouine said it was "illegal" for protesters, who have been demonstrating for more than a month, to block roads with tents, "which they have set up in the middle of streets."
In 2017, protesters blockaded a gas station in El Kamour, demanding jobs in the gas and oil sector.
Three months later, the sit-in ended when then Employment Minister Imed Hammami signed a deal with representatives of the protesters.
The deal, brokered by Tunisia's powerful labour union, the Tunisian General Labour Union (UGTT), pledged to invest 80 million Tunisian dinars a year (almost $28 million) in Tataouine.
The deal also pledged to hire 1,500 locals into oil companies by the end of 2017; the recruitment of 3,000 people in the public service; and the ending of prosecutions against demonstrators.
However, a number of these promises have not been kept, fueling anger over a lingering development gap between major coastal cities and less developed interior and southern regions, from where the 2010/2011 uprising started.
On Monday, the UGTT branch in Tataouine confirmed that some of the government's promises had not been kept and called for a "general strike" in the region.
 
In its statement, the labour union stressed that the work stoppage was meant to denounce the "excessive and unjustified use of force" against protesters.
Another statement by the Union for Unemployed Graduates (UDC), condemned Sunday's violence and called for dialogue and the need for development plans.
The UDC also called for the immediate release of detainees and an investigation into excessive violence by security forces, reminding the government of the need to implement "its pledges of employment and development immediately."
"The current government is delaying the implementation of the state's promises," the statement said, adding that "attacks, raids and arrests that occurred on Sunday indicate a return to heavy security measures in dealing with social files and citizens' demands."
Sunday's violence was also denounced by a number of politicians, with Tunisian parliament member Mabrouk Korchid deploring the developments in Tataouine in a public Facebook post.
Korchid, wary of escalating tensions, called on authorities to avoid a security approach to the crisis in Tataouine, insisting on the need for the government to "stop giving false promises, and make sure to honour old one, in order to create a climate of trust with citizens in the region."
As anger builds in Tataouine, the government of Tunisian Prime Minister Elyes Fakhfakh faces a difficult impasse first set out by former Prime Minister Youssef Chahed in 2017.
 While many successive governments have failed to address the concerns of Tunisians in Tataouine, many blame the Islamist Ennahda movement, a key partner in Chahed's government, for causing the situation to deteriorate.
 Ennahda, which led negotiations with protesters in 2017 and took credit for "resolving" the crisis, is now accused of attempting to embroil Fakhfakh's government in the thorny file, knowing that a solution is not possible under a parliamentary system in which no political player bears direct responsibility for the unresolved social and economic files.
 Last March, Ennahda, along with trade union organisations and political parties, signed a statement blaming Chahed for the current stalemate, failing to mention that it was a majority party in his government.
 The move was deemed by critics at that time as an attempt by Ennahda to evade responsibility instead of working to resolve the crisis as an influential and popular political party in the south.
 In mid-January, Ennahda's leader and Parliament Speaker Rached Ghannouchi met with representatives of the sit-in, bringing the issue back to the fore. This drew suspicions about Ennahda's intentions as it looks to destabilise Fakhfakh's government and bring in the Qalb Tounes party to a future coalition.
 Ennahda's manoeuvres aside, it now looks like the unrest in  Tataouine could morph into a larger popular movement.
Tunisia is a relatively minor producer of oil and gas, generating about 44,000 barrels per day.
The protests come at a sensitive time for the country, which is facing the economic repercussions of the coronavirus pandemic amid authorities' warnings about a shrinking of the economy this year by up to 4.3%, the steepest drop since independence in 1956.
According to experts, the country's economy will take a huge hit from lower tourism numbers as international travel remains closed. Tourism accounts for about 8% of Tunisia's GDP and is a key source of foreign currency, with around nine million tourists visiting the country last year.
That sector, which caters especially to French, Italian, German and British tourists who are now unlikely to travel, is not expected to recover this year.
Tunisia's debt swelled from 40% in 2010 to 75% of its GDP in 2019, with two-thirds of the amount in foreign currencies.