US' regional influence threatened by Iraq strike fallout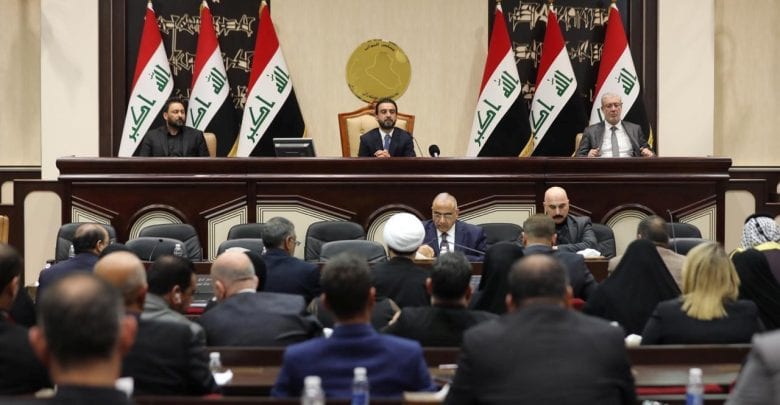 Iraq is in turmoil following last Friday's US' drone strike that killed a top Iranian general, an Iraqi militia leader and others near Baghdad International Airport. On Sunday, in a chaotic session of Parliament, lawmakers passed a resolution  that commits the caretaker government of Adel Abdul Mahdi to ending the presence of all foreign troops in Iraq and terminating a security agreement with the US. "The government commits to revoke its request for assistance from the international coalition fighting (Daesh) due to the end of military operations in Iraq and the achievement of victory," the resolution read.
There was confusion late on Monday, when the Iraqis said they had received an unsigned letter from the US' Army indicating that American troops in Iraq would be redeployed in preparation for their withdrawal. But the Pentagon was quick to say that the letter was a draft and that it was not intended for circulation. Later, Defense Secretary Mark Esper denied that the US would withdraw from Iraq.
Abdul Mahdi had said that the US drone attack that killed Quds Force commander Qassem Soleimani and deputy head of the Popular Mobilization Forces Abu Mahdi Al-Muhandis violated the security agreement that saw US' forces stationed in Iraq to help fight Daesh. President Donald Trump had admitted that he had given the order to kill Soleimani, while his Secretary of State Mike Pompeo claimed that the operation was taken to thwart what he described as "an imminent threat."
As Washington and Tehran traded threats and warnings in the wake of the strike, Iraqis found themselves at the center of what has become a major regional crisis. Trump responded to the Iraqi Parliament's resolution by threatening "sanctions like they've never seen before ever. It'll make Iranian sanctions look somewhat tame." He told reporters that Washington would have to be reimbursed for the cost of the air base there.
Trump's threats will inflame the situation even further. The US now finds itself in an awkward position and is already being labeled as an occupier, not only by pro-Iran factions but by a growing number of Iraqis who are also against the Iranian presence. For years, the US and Iran have competed for influence over Iraq's affairs but avoided direct confrontation there. Now it appears that the killing of Soleimani may have undercut Washington's ties with Iraq's political establishment, including the politicians and activists who support the US presence to counter Iran's growing influence.
Despite all the threats that are coming from Tehran, Iran is likely to choose strategic patience in relation to its response to Soleimani's killing, especially where Iraq is concerned. It would be foolish and counterproductive to use Iraq as a stage to attack US military targets. Instead, Tehran will likely be satisfied by the Iraqi Parliament's resolution and what may follow in terms of diplomatic engagement between Baghdad and Washington to end the US military presence in Iraq. That also means it will put pressure on its Iraqi proxies to exercise restraint — for now — in order to maintain the political momentum shown by the Baghdad government and Parliament.
The termination of the security agreement means that US forces will have to leave Iraq within a year. This will deal a heavy blow to America's geopolitical objectives in the region on a number of fronts. It would mean losing its military assets in Iraq, which are vital to supporting its posts in eastern Syria, as well as in confronting Iran's regional ambitions. Furthermore, the US withdrawing from Iraq will be seen as a huge boon for Iran, which can then tighten its grip on the country. This is a major concern for Iraq's Arab neighbors, who oppose Iran's provocative regional meddling. Ironically, Israel, which celebrated Soleimani's demise, may also be concerned about the long-term fallout from the American strike.
On the other hand, the Iraqi people remain divided over US and Iranian interventions in their country. While the US strike put a damper on the popular uprising in Iraq — seen as a gift to pro-Iran militias and the corrupt political class — protests may resume later, since the country continues to face huge political and economic challenges. Certainly, many Iraqis will not be happy to see Iran filling the void left by the US' withdrawal, should it happen.
Since the US-Iraq crisis is still young, there are many factors that could change the current trajectory.

Osama Al-Sharif
But a year, if that is what it would take for the US to pull out, is a long time in politics and, since the US-Iraq crisis is still young, there are many factors that could change the current trajectory. One has to do with the way Iranian leaders choose to respond to Soleimani's killing. While neither side wants an open war, an incident in the Gulf, Iraq, Lebanon or even beyond may be the spark that sets off a major confrontation. Certainly Trump remains defiant and unpredictable, even as he faces a motion by the House of Representatives to limit his ability to wage war.
Another factor is related to Iraq's domestic security. Daesh has not been wiped out completely and there are sleeper cells present that could regroup as the US and other NATO forces prepare to pull out. Iraq stands to lose out if the US terminates security and intelligence cooperation with Baghdad.
For now, salvaging the Iraqi situation is emerging as an immediate priority for the US. Trump's initial reaction will not derail the push to end the American military presence there. Iraq's response to the US strike has changed the rules of the game and, for now, Washington is scurrying to find the right answers.