Victor Wembanyama scores 38 points, Spurs hold off Suns 132-121 to complete 2-game sweep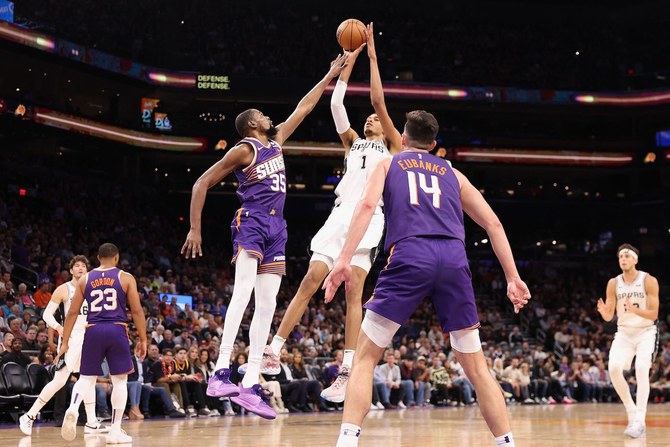 Rookie Victor Wembanyama scored a season-high 38 points, Zach Collins added 19 and the San Antonio Spurs held off Phoenix's late charge to beat the Suns 132-121 on Thursday night.
The Suns erased a 27-point deficit, tying it at 116 with 4:21 left on Keita Bates-Diop's 3-pointer, but the Spurs responded by scoring the next 12 points, including 10 from the precocious Wembanyama. In just his fifth NBA game, the 7-foot-4 Frenchman shot 15 of 26 from the field and had 10 rebounds.
Phoenix's Devin Booker returned from a sprained ankle and nearly had a triple double with 31 points, 13 assists and nine rebounds. But it wasn't enough for the Suns, who had 14 turnovers. Kevin Durant had 28 points.
It was the second time in three days the Spurs beat the Suns in Phoenix. San Antonio shocked Phoenix 115-114 on Tuesday night.
76ERS 114 RAPTORS 99
Joel Embiid had 28 points, 13 rebounds and seven assists and Philadelphia won in their first game since trading James Harden, beating Toronto.
Kelly Oubre Jr. and Tobias Harris each scored 23 points for the 76ers. Oubre's ascension to the starting lineup in place of PJ Tucker, who was included in the Harden deal with the Los Angeles Clippers, left the Sixers with a thin bench.
Scottie Barnes led Toronto with 24 points. A night after snapping a three-game losing streak with a home victory over Milwaukee, the Raptors lost for the second time to former coach Nick Nurse and the 76ers this season.
MAGIC 115 JAZZ 113
Paolo Banchero scored 30 points, making the deciding layup with 14 seconds left, in Orlando's victory over Utah.
Banchero added nine rebounds and five assists to help the Magic win for the third time in 15 games against Utah. Franz Wagner added 21 points, and Cole Anthony had 18 points, seven rebounds, and seven assists.
Lauri Markkanen led the Jazz with 22 points and seven rebounds.
PELICANS 125 PISTONS 116
CJ McCollum scored 33 points and short-handed New Orleans beat Detroit with both teams playing for the second straight night.
New Orleans played without starting power forward Zion Williamson (rest) and wing Brandon Ingram (right knee tendinitis).
Cade Cunningham had 22 points and 11 assists for Detroit.