What's the latest on the Mbappe transfer saga and what's next?
The French striker looks set to leave PSG after missing their preseason tour, but will Al-Hilal's record-breaking offer tempt him?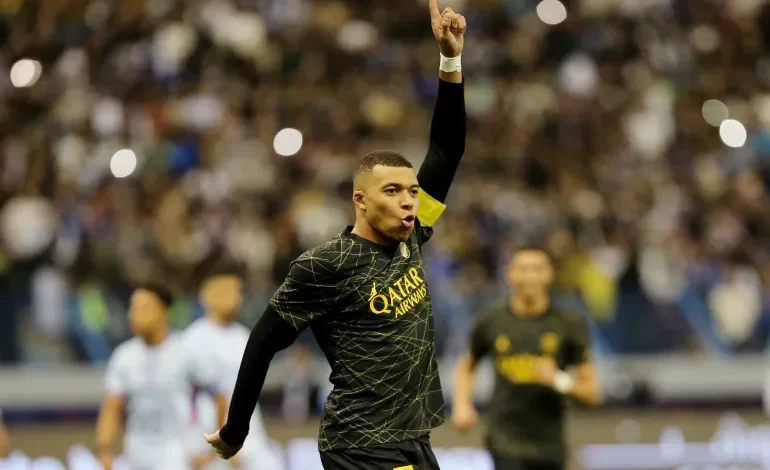 Paris Saint-Germain striker Kylian Mbappe is up for sale, setting off a transfer saga around the French football star.
On Monday, it was reported that Saudi Arabian club Al-Hilal had submitted a world record bid of $332m for the striker.
How has the 24-year-old national team captain ended up on the brink of becoming the world's best-paid player?
Will he join compatriots Karim Benzema and N'Golo Kante in the Saudi Pro League, or will the likes of Real Madrid or Chelsea persuade him to stay in Europe?
Monaco to PSG: A star is born
In 2016, 17-year-old Mbappe signed his first professional contract for France's Ligue 1 side Monaco.
His first season was an unprecedented success with Monaco topping Ligue 1 and reaching the semi-finals of the Champions League, knocking out Manchester City and Borussia Dortmund along the way.
His performances that season landed him a move in the summer of 2017 to PSG, where he won the domestic treble in his first season.
World Cup winner at 19
Mbappe was part of France's squad that won the World Cup in 2018. He became the second teenager after Pele to score in a World Cup final.
With four goals in the tournament, he received the FIFA World Cup Best Young Player award.
Four years later, he won the Golden Boot at Qatar 2022. Mbappe scored a hat-trick in the final but narrowly missed out on another winner's medal as France lost to Argentina in a penalty shootout.
PSG ready to sell Mbappe
Since his move to PSG, Mbappe has consistently broken club records, including becoming PSG's all-time top scorer in 2023.
He also has picked up five Ligue 1 titles and reached the Champions League final in the 2019-2020 season.
Mbappe is in the final year of his contract, and PSG have now put him up for sale. He was left out of the club's squad for the preseason tour of Japan and South Korea.
The club's president, Nasser al-Khelaifi, has said: "If Kylian wants to stay, we want him to stay. But he needs to sign a new contract. We don't want to lose the best player in the world for free. We can't do that."
How likely is a Saudi move?
No one can ignore the $332m Saudi offer, but many football commentators have questioned whether Mbappe would want such a move at the height of his career.
Such is Al-Hilal's determination, though, to get the deal done that they are willing to pay $221.5m for a single-season stay.
Cristiano Ronaldo, the world's highest paid athlete, reportedly earns more than $215m with Al Nassr.
There are reports that Mbappe's deal could amount to $775m annually with commercial arrangements and image rights on top of his salary.
It is understood that PSG will accept Al-Hilal's offer, but there have yet to be any talks between Al-Hilal and Mbappe.
Real Madrid, Chelsea – Who else is interested?
There is no shortage of suitors for the young striker.
Real Madrid have long been linked to the striker, and it was reported that he was close to joining the Spanish giants last year. However, he has dismissed reports he will join them this summer as "lies".
West London club Chelsea have also been linked with Mbappe, but when pressed by Sky Sports, manager Mauricio Pochettino refused to get drawn into speculation as he described the striker's situation at PSG as "delicate".
Pochettino had previously coached Mbappe at PSG.
Manchester United are said to be interested in Mbappe, but coach Erik ten Hag recently dismissed questions about a potential transfer.
French newspaper L'Equipe recently reported that PSG were to hold talks with Barcelona, but the Spanish sports newspaper Marca later confirmed that the cash-strapped Catalan side had denied any talks would take place.
Tottenham and Inter Milan have also been reported to have shown an interest in Mbappe.