WHO: Israeli raid on Gaza's Al Shifa Hospital unacceptable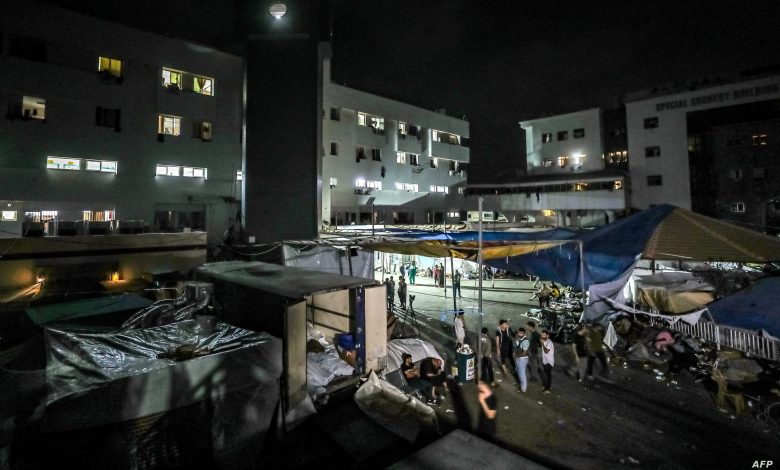 The World Health Organization head said on Wednesday that the Israeli military incursion into Al Shifa Hospital in Gaza was "totally unacceptable."
WHO Director-General Tedros Adhanom Ghebreyesus told a press conference in Geneva that patients and staff must be protected even if hospitals were used for military purposes.
"Hospitals are not battlegrounds," he said. "Israel's military incursion into Al Shifa Hospital in Gaza City is totally unacceptable."
Israeli troops entered Shifa, Gaza's biggest hospital, on Wednesday as part of their assault on the Palestinian territory.
Israel says Hamas fighters have a headquarters in tunnels beneath it. Hamas denies this is the case.
Gaza hospital director says 179, including 7 babies, buried in 'mass grave' at complex
The WHO, a UN agency, also said it was "urgently exploring" the possibility for evacuating patients and medical staff from the facility.
"To make sure this can be enabled, of course there is a need for safe passage and also for fuel for the ambulances," said Rik Peeperkorn, WHO representative in the occupied Palestinian territories.
Peeperkorn said that according to their latest information, 34 of 39 premature infants in the hospital were still alive, and 82 bodies had been buried in a mass grave in the grounds.
A further 80 bodies remain unburied, he said, and there was no oxygen, power or water at the hospital. There are 633 patients there in total, plus around 500 staff and up to 4,000 people sheltering in the hospital grounds, he added.
Tedros, who earlier on Wednesday had said the WHO had lost touch with health personnel at Shifa, said the organization had no reports of the numbers of deaths and injuries in Gaza more broadly for the last three days, making it harder to assess the state of the healthcare system there.
He said one WHO staff member had described it as: "No water, no electricity, only bombing, bombing, bombing…"
At the press conference, Tedros also reiterated calls for a ceasefire and better access for aid into Gaza, as well as for the release of Israeli hostages being held there by Hamas.
The WHO's chief legal expert, Steve Solomon, said health facilities were always under the protection of international law.
"Under international humanitarian law, hospitals…must be safeguarded against all acts of war," he said.
Earlier, the White House had said US intelligence sources corroborated Israel's claim that Hamas and another Palestinian militant group, Islamic Jihad, had buried an operational "command and control node" under Al-Shifa.
However, the White House renewed its concerns for the safety of civilians shortly after the raid began.
The White House "won't speak to the specifics of an ongoing Israeli military operation," a National Security Council spokesperson said.
"We do not support striking a hospital from the air and we don't want to see a firefight in a hospital where innocent people, helpless people, sick people trying to get medical care they deserve are caught in the crossfire," said the spokesperson said.
Separately, UN aid chief Martin Griffiths said he was "appalled" by the reports of the Israeli raid on Shifa.
"The protection of newborns, patients, medical staff and all civilians must override all other concerns," Griffiths wrote on X.
The humanitarian chief demanded immediate action to "rein in the carnage." "As the carnage in Gaza reaches new levels of horror every day, the world continues to watch in shock as hospitals come under fire, premature babies die…" he said.
"An entire population is deprived of the basic means of survival. This cannot be allowed to continue," said Griffiths added.
The International Committee of the Red Cross also said it was "extremely concerned about the impact on sick and wounded people, medical staff, and civilians."
"All measures to avoid any consequences on them must be taken," the ICRC said, insisting that "patients, medical staff, and civilians must be at all times protected."
Jordan accused the UN Security Council of enabling the "barbarism" of Israel's raid on the hospital through its silence.
"The catastrophe in Al-Shifa hospital shows the barbarism UNSC's silence is allowing," Foreign Minister Ayman Safadi wrote on X.
"We condemn the silence on this brutality. It is providing cover for war crimes. It is unacceptable, unjustifiable. The Council must act."