Will Hamas become Turkish victim in their relations with Israel?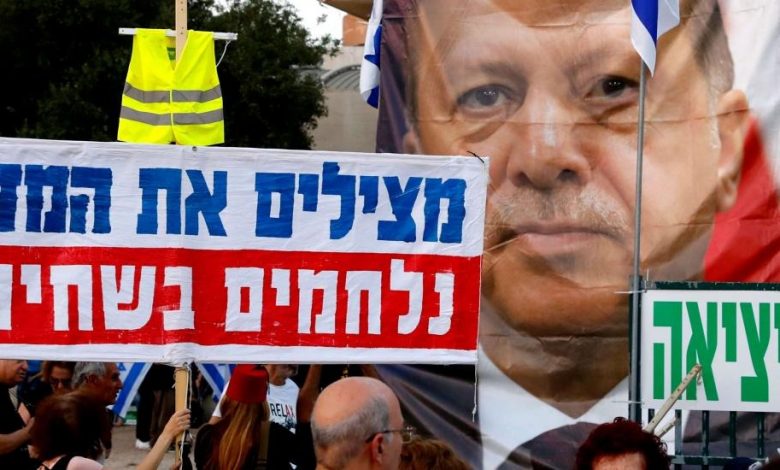 The patron of the Muslim Brotherhood, Turkish President Recep Tayyip Erdogan is suddenly courting Israel.
Until recently, Erdogan was still making a mockery of the reconciliation deal Turkey and Israel signed in 2016, which was supposed to resolve the conflict over the Mavi Marmara incident and put Turkish-Israeli relations back on a normal path.
Two years ago, after the US Embassy was relocated to Jerusalem and Israel bombed Hamas targets in the Gaza Strip, Erdogan expelled Israeli Ambassador to Ankara Eitan Na'eh and recalled his own envoy from Tel Aviv. And now, in the past few months, we're seeing him reverse course. Erdogan is seeking closer ties with Israel and sending emissaries, hints, and messages that leave no room for doubt about his intentions. Moreover, after a long sulky period, Turkey is sending a new ambassador to Israel – Ufuk Ulutas, a close associate of Erdogan's. Ulutas, too, has previously denied Israel's right to exist on "Palestinian land" and made extremely hostile statements against it.
Turkey is even accepting Israel's recent normalization agreement with Morocco with surprising equanimity. Only a few months ago, it attacked similar agreements between Israel and the United Arab Emirates. Reports about a series of meetings between Mossad head Yossi Cohen and head of Turkey's intelligence services Hakan Fidan also indicate how serious Erdogan is about Israel.
So what has happened to Erdogan? Senior officials in Jerusalem think that the about-face in his approach can be explained by the result of the US presidential election. Erdogan has a fractured relationship with US President-elect Joe Biden, and the Turks believe that the way to the White House goes through Jerusalem.
"What dictates relations between Israel and Turkey is how good relations are between the US and Turkey," explains Dr. Hay Eitan Cohen Yanarocak, an expert on Turkey with the Jerusalem Institute for Strategy and Security and the Moshe Dayan Center for Middle Eastern and African Studies at Tel Aviv University.
According to Yanarocak, "The Turks are afraid of harsher American sanctions and they want help from the Israeli and Jewish lobbies, which they see as having a lot of sway in Washington. Their assumption is that renormalization with Israel will be a trust-building step for Washington, a kind of proof of good behavior."
A week or so ago, Erdogan advisor Mesut Casin announced that if Israel took a step in Turkey's direction, Turkey would take two steps toward Israel.
Yanarocak says that he knows Casin, who is a secular military man, not an Islamist. "He was my professor of international law in Istanbul," he says, adding that Israel should take what Casin says seriously, as well as what Erdogan himself is saying.
"When Erdogan says that, it's a lot more than a hint," Yanarocak explains.
Why is Erdogan so scared of the man who will soon be in the White House? Biden has long-standing issues with Erdogan, and doesn't bother to hide them. The president-elect has long opposed Turkey's occupation of Northern Cyprus. Biden has declared multiple times that if elected president, his administration would officially recognize the Armenian genocide the Turks perpetrated in the early 20th century. Unlike Trump, Biden is showing much less patient for the channel Erdogan's Turkey, which is still a NATO member, has opened up to Russian President Vladimir Putin, as well as its operation of the Russian S-400 missile defense system, or for the Turkish-Iranian links fostered by the Russians. Biden is particularly outraged over the Turkish invasion of northern Syria and their attacks on the Kurds there. As president, Biden is expected to renew US support for the Kurds, whom the Obama administration supplied with weapons in their fight against the Islamic State.
Will the Turkish bank be investigated?
Not only is Erdogan well-versed in Biden's positions, the two have met in person four times. He also remembers Biden's remarks in the presidential race, when he talked of nothing less than ousting Erdogan with the help of the Turkish opposition – not a coup, but democratic elections. Now Erdogan is afraid that Biden, unlike Trump, will not continue to delay a criminal investigation into the government-run Halkbank, which allegedly tried to skirt US sanctions on Iran. The investigation could go to the very top of the Turkish pyramid, including Erdogan himself.
But Biden isn't Erdogan's only problem. The Turkish president finds himself increasingly isolated. Trump, whom he will miss, nevertheless sanctioned Turkey in his final days in the White House. He kicked Turkey out of a plan to build F35 stealth fighters and banned it from selling any defense equipment that contains American parts to other countries.
Erdogan is afraid that Biden will tighten the sanctions. Meanwhile, he is fighting with both the UAE and Saudi Arabia, which is unofficially boycotting him. The boycott is hurting Turkey at a time when the Turkish lira is tanking and inflation and unemployment are sky-high. Erdogan isn't even in contact with Egyptian President Abdel Fattah el-Sissi, who unceremoniously outlawed the Muslim Brotherhood.
In addition to all these troubles, the European Union is considering sanctions of its own against Ankara over its oil drilling in the eastern Mediterranean Sea, which is damaging Cypriot and Greek territorial waters, as well as trespassing on their sovereignty.
Israel is thinking carefully about how to response to Turkey's new overtures. Turkey's semi-formal offer of an agreement on shared maritime borders with Israel has been declined for now, and there isn't much chance it will be accepted. The proposal came in the form of an article by retired Turkish Admiral Cihat Yayci, another Erdogan associate, which was published in the monthly journal Turkeyscope, which Yanarocak edits.