With Tunisian President Participation, Italy Hosts Conference to Extend EU-Backed Deal in Curbing Migration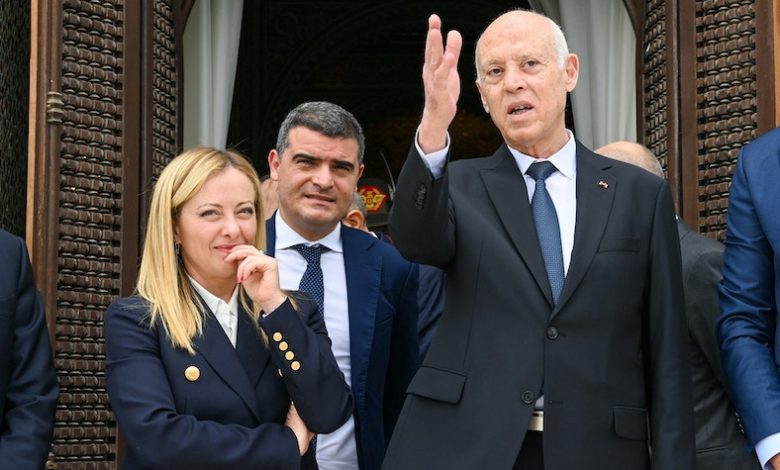 Italy's Prime Minister, Giorgia Meloni, has called for an international conference in Rome to discuss extending an EU-backed deal with Tunisia that aims to curb the arrival of migrants on European shores. The conference, set to take place on Sunday, will bring together leaders from the Mediterranean region, the European Union, and international financial institutions. The presence of Tunisian President Kais Saied has been confirmed, and the prime ministers of Egypt and Malta have also expressed their intention to attend.
Italy, along with the European Commission, has been actively engaging with Tunisia, offering financial support in exchange for efforts to curb emigration from its territory. Prime Minister Meloni has also been attempting to facilitate a bailout package for Tunisia from the International Monetary Fund (IMF). The IMF has put the bailout on hold, demanding structural reforms from the country.
During her election campaign last year, Prime Minister Meloni promised to halt the disembarkation of migrants in Italy. However, while the government has imposed obstacles on humanitarian ships rescuing migrants in the Mediterranean, it has been unsuccessful in preventing the departures themselves, primarily originating from Tunisia and Libya.
Last week, the EU signed a memorandum of understanding with Tunisia, providing direct European aid and outlining measures to prevent the departure of migrant boats. The agreement also includes the repatriation of more illegal Tunisians and the return of sub-Saharan African migrants in Tunisia to their countries of origin.
Italy is hoping that its partnership with Tunisia can serve as a model for building new relations with North African neighbors. The EU is also seeking similar partnerships with Egypt and Morocco, recognizing the importance of cooperation with North African countries to address migration issues.
However, critics argue that the new deal with Tunisia will have limited impact on curbing migration, and that migration policies need to go beyond short-term strategies and focus on long-term solutions. Human rights groups and charities have raised concerns about the lack of emphasis on human rights in these agreements and the dangers faced by migrants attempting the Mediterranean crossing.
According to the United Nations, over 100,000 migrants arrived in Europe by sea in the first half of 2023, with Italy being the primary destination. While Italy has seen fewer asylum applications compared to other European countries, migration remains a pressing issue for the Italian government.