Xi Jinping: China seeks to stabilize Middle East in cooperation with Egypt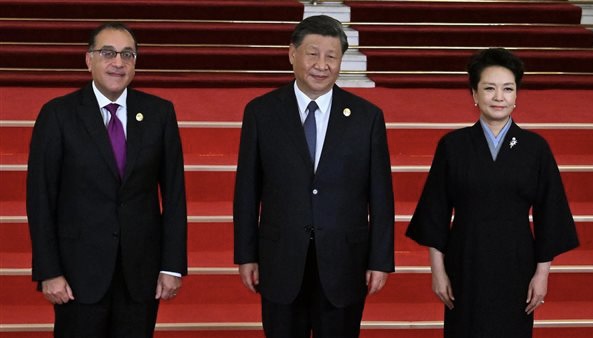 Chinese President Xi Jinping held talks with Egyptian Prime Minister Mostafa Madbouli on Thursday,  expressing Beijing's commitment to working together to bring "more stability" to the Middle East. 
During the meeting in Beijing, President Xi conveyed China's willingness to strengthen cooperation with Egypt, aiming to inject certainty and stability into the region and the world.
"At present, the international and regional situation is undergoing profound and complex changes, and the world is experiencing rapid changes not seen for a century," Xi said.
Speaking with the Egyptian PM, Xi said that the most urgent task is to cease fire and stop the war as soon as possible to prevent its expansion.
In light of these challenges, Xi expressed Beijing's readiness to collaborate with Cairo to "jointly safeguard international fairness and justice as well as the common interests of developing countries."
The Chinese President also said he supported Egypt's efforts to open humanitarian corridors and is willing to strengthen coordination with Egypt and Arab countries to promote an early, comprehensive, and lasting solution.
Meanwhile, United Nations Secretary-General Antonio Guterres is scheduled to visit Egypt today, to hold a meeting with President el-Sisi and other Egyptian officials, as the humanitarian situation deteriorates in Gaza. 
This comes as Egypt agreed to open the Rafah crossing into Gaza to allow 20 trucks filled with humanitarian aid through, United States President Joe Biden told reporters on Wednesday.
"He (President Abdel Fattah el-Sisi) agreed to… let up to 20 trucks through, to begin with," Biden said following a phone call with el-Sisi which he conducted from a telephone on the Presidential jet, Air Force One.
He added that the 20 trucks represented a "first tranche", but "150 or something" trucks are waiting in total. Whether the rest are allowed to cross will depend on "how it goes.
The US President failed to mention why the roads were damaged. In fact "Israel" has bombed the crossing several times since October 7.
The aid packages would not reach Gazans until Friday as the road around the crossing needed repairs, Biden noted.
Biden said the United Nations would distribute the aid in Gaza while contending that another batch might be sent in depending on the situation.
The US President also commended the Egyptian President saying, "The bottom line is that he deserves some real credit because he was very accommodating."