Brotherhood forces attacks protesters in Yemen's third-largest city of Taiz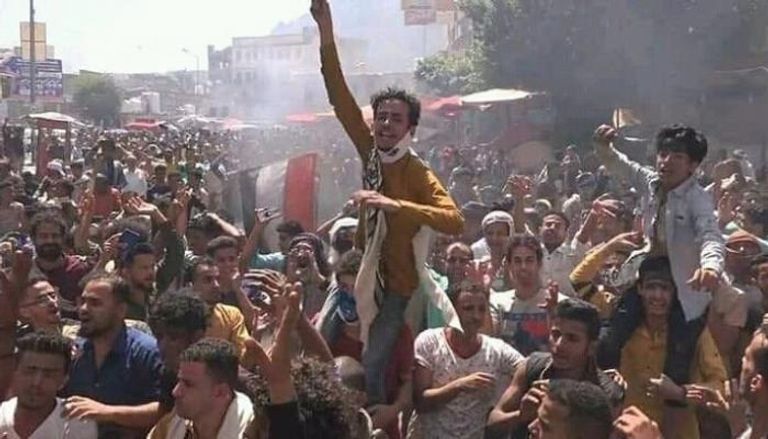 The governorate of Taiz, southwest of Yemen, witnessed, on Monday, the largest angry protests since they began about two weeks ago, denouncing corruption, the deterioration of the currency and the rise in prices.
Brotherhood forces opened fire on hundreds of protesters in Yemen's third-largest city of Taiz on Monday as unrest over poverty.
Local residents and eyewitnesses stated that hundreds of protesters blocked Jamal Street in the city center and chanted the departure of the government and the governor of Taiz, Nabil Shamsan.
Other protesters also closed main streets, most notably "Wadi Al-Qadi", "Hod Al-Ashraf", "Al-Thawra" and "Sinan Roundabout" and set fire to empty tires and prevented vehicles from crossing.
According to witnesses, most banks, institutions and shops in the city of Taiz closed their doors in conjunction with the protests.
About two weeks ago, the governorates of Aden, Hadramout and Taiz have witnessed angry protests denouncing the deterioration of services and the significant rise in food prices due to the unprecedented deterioration in the history of the Yemeni riyal. Where the price of one dollar exceeded 1200 riyals.
Before the war that began in 2015 in Yemen, one dollar was sold for 215 riyals, while with the decline of the riyal, the value of the salaries of many categories fell to the equivalent of less than $100.
About 7 years ago, Yemen witnessed a war that killed 233,000 people, and 80 percent of the population of about 30 million people depended on aid to survive.