Tunisian Foreign Minister: The exceptional measures aim to "correct the democratic path"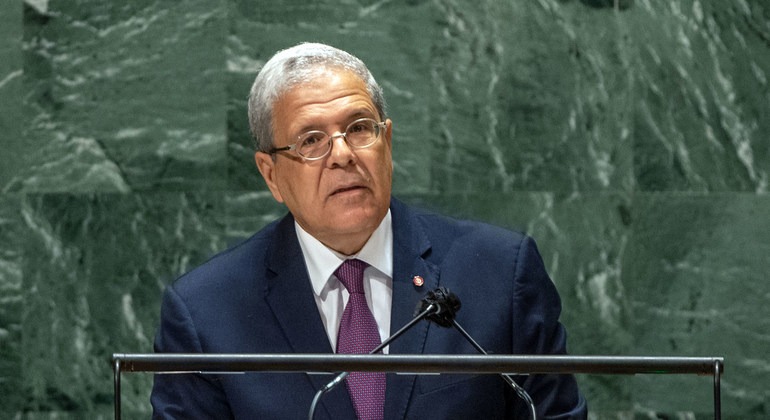 In a speech from the podium of the United Nations General Assembly on Monday, Tunisian Foreign Minister Othman Al-Jarandi stressed that the exceptional measures taken by President Kais Saied aim to "establish a true and sound democracy."
"The establishment of a true and sound democracy is what Tunisia has embarked on through" the exceptional measures taken by Saied, al-Jarandi said, according to a statement published by his ministry.
The Tunisian minister stressed that "democracy in Tunisia is an irreversible and irreversible option, and that human rights and public and individual freedoms are guaranteed and safeguarded within institutions based on the rule of law and principles of good governance."
He added that these measures aim to "correct the democratic path in a manner that responds to the will of the Tunisian people alone and their legitimate aspirations for a system that guarantees its sovereignty, rights, freedoms and dignity."
Al-Jarandi pointed out that "building a stable state that incubates all its citizens on an equal footing is the basic condition for establishing social peace, achieving sustainable development and respecting human rights."
He stressed that Tunisia "will continue its influential role in its immediate and regional surroundings by providing support and assistance to the brothers in Libya to complete the political track."
On July 25, Saied announced exceptional measures that froze parliament and dismissed Prime Minister Hisham al-Mashishi and personally assumed power in the country.
Said's decisions were widely welcomed by a wide range of Tunisians, and many of them went out to celebrate, especially after imposing travel or house arrest bans on many personalities, politicians and businessmen, as well as the arrest and prosecution of parliamentarians after their parliamentary immunity had been lifted.
Saied based his decisions on Article 80 of the 2014 constitution, which authorizes the President of the Republic to take "exceptional measures" if there is an "imminent danger" threatening the country.
And last week, Saeed issued decisions in which he strengthened his powers at the expense of the government and granted himself the power to issue legislation by presidential decrees, which increases the possibility of the country transitioning towards a presidential system through an "amendment of the 2014 constitution."