A new Attack on "Ain al-Assad" Base, Day after Blinken's Visit to Baghdad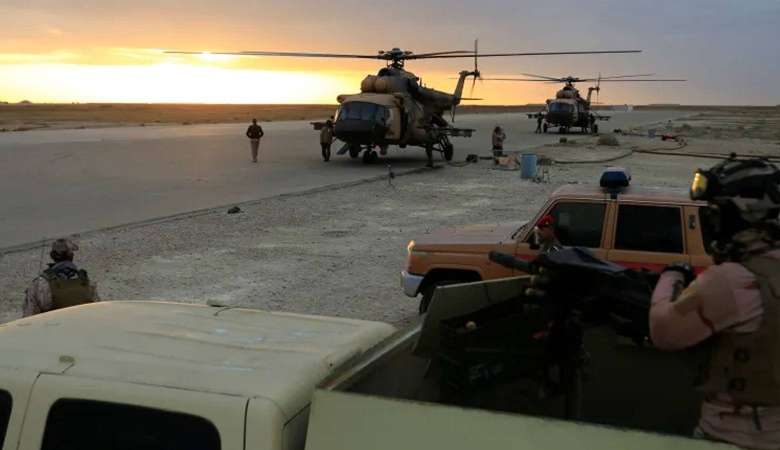 Monday morning witnessed the targeting of the Ain al-Assad base, western Iraq, the day after US Secretary of State Anthony Blinken's visit to Baghdad, last Sunday night, and his warning to the authorities of continued attacks on American interests.
Two Iraqi officials in Baghdad confirmed that Blinken's visit to Baghdad, and his quick meeting with Prime Minister Muhammad Shiaa al-Sudani, was to deliver warnings about the continuation of attacks launched by armed factions allied with Iran on American interests in the country, and the possibility of Washington responding to them at any time.
Blinken's visit to Baghdad, which lasted a few hours and during which he wore a bullet-proof vest, a scene that Baghdad had not been accustomed to for years during visits by Western officials, was also considered an "intentional exaggeration" by Washington, which may have been directed at American and Western public opinion in general, and not Iraqi.
Today, Monday, an Iraqi government official told Al-Araby Al-Jadeed that Blinken asked Al-Sudani to "control armed factions," adding in a phone call that Blinken informed Al-Sudani of hostile activities by armed factions affiliated with the "Popular Mobilization Forces" in Syrian territory, targeting American forces as well, warning of a broad American military response to them if these attacks cause any losses.
A member of the Iraqi parliament confirmed the same matter, indicating to Al-Araby Al-Jadeed that the Sudanese would discuss with the Iranians pressure on their allied factions to stop their escalation, stressing that "the American minister held the Sudanese responsible for putting an end to those factions before the American response to them, which is what the Sudanese will discuss in the Tehran during his visit today.
Al-Sudani arrived on Monday morning in the Iranian capital, Tehran, on an official visit, according to what his media office announced in a brief statement.
In addition, US State Department spokesman Matthew Miller confirmed, in a statement, that "Blinken discussed with Al-Sudani in Baghdad the conflict between Israel and Hamas, and the need to prevent the spread of the conflict, including in Iraq," stressing that "Blinken urged Al-Sudani to hold those responsible accountable." On the ongoing attacks on American employees in Iraq, and to fulfill Iraq's obligations to protect all facilities that host American employees at the invitation of the Iraqi government, stressing that "the United States will defend its interests and individuals."
The representative of the "Coordination Framework" coalition, Muhammad Al-Sayhoud, confirmed that Iraq cannot submit to any pressure, whether from Washington or others, regarding what is happening in Palestine, and he said in a press statement, yesterday evening, Sunday, that "there is popular, governmental, and even political consensus." , to condemn the genocide that is taking place against the Palestinian people," pointing out that "this consensus may occur for the first time, especially with the presence of a unified vision regarding the Palestinian issue."
For his part, Iraqi political affairs researcher Firas Elias commented on Blinken's visit, in his blog post on the "X" platform, saying: "Blinken's visit to Baghdad on the eve of Sudanese's departure for Tehran carries a clear message to Iran and its allies, especially after Iran's support and the Lebanese Hezbollah." For attacks on American interests in Iraq, and it may also carry American warnings to Iran, which will be conveyed by Sudanese regarding the necessity of maintaining calm and not escalation in the region."
New targeting of Ain al-Assad base
On the ground, drones targeted, at dawn on Monday, the Ain al-Assad base, western Iraq, and Iraqi security sources in Anbar Governorate confirmed that "at least two aircraft targeted the Ain al-Assad base, and the sounds of ground anti-aircraft guns were heard from inside the base, and they were able to shoot down one of them outside the base, without knowing." What resulted from the attack?
The "Islamic Resistance in Iraq" group had threatened to begin a new phase in "confronting the enemies, in support of Palestine," stressing that "the phase will be broader on their bases in the region."