A Parisian Decision Thwarts An Expected Confrontation Between Ronaldo And Mbappe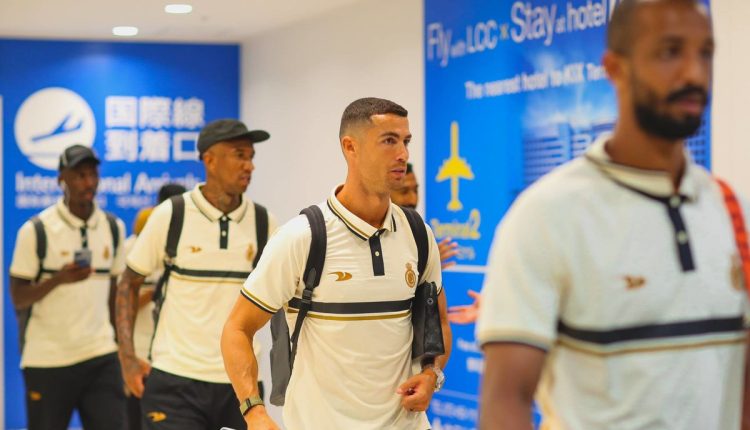 The French club, Paris Saint-Germain, hit hard by excluding its star, Kylian Mbappe, from his Asian tour, which begins on Saturday and continues until August 3, in order to force him to decide to renew his contract, which expires in June 2024; After that date, he can move for free to Real Madrid, his favorite destination.
So the arm-twisting battle between the two sides began. If the contractual right between the two parties is in favor of Mbappe, who can respect his contract next season and not force him to move, Saint-Germain used another weapon, which is to deny him his presence in the Asian tour that includes Japan and South Korea. Where the French capital team plays pre-season matches.
The Qatari president of Saint-Germain, Nasser Al-Khulaifi, was clear when he said, during his presentation of the new coach of the Spanish team, Luis Enrique, on July 5, that Mbappe, the captain of the French national team, must "sign a new contract if he wants to stay" with his team, Paris Saint-Germain.
Al-Khelaifi made it clear that he wanted Mbappe to stay, but "we cannot allow one of the best players in the world to leave freely. This is clear… No one is bigger than the club.
And he continued, "If Mbappe does not want to renew the contract, the door is open for him to leave, of course. It's the same for all the other players, no one is bigger than the club, not even me.
And while the 24-year-old top scorer has a contract with the Qatari-owned team until 2024, and last month expressed his unwillingness to activate the option to extend for an additional year, Al-Khulaifi added, "(Mbappe) himself said: I will not leave for free. If someone changes their mind, it is not my fault."
Al-Khulaifi was given until the end of this month for Mbappe's camp to make his decision, then he repeated his request on the fifteenth of this month during the international players' return to the team's training, without receiving any answer, as reported by a source close to the negotiations between the two parties, the French Press Agency.
And the source stated that Saint-Germain is completely confident that Mbappe has reached an agreement to transfer him in a free deal to Real Madrid, with a huge contract advance; Because the capital team will have saved a lot because it will not be obligated to pay any amount to Saint-Germain in exchange for its services on June 30, 2024.
A source in the club also confirms that Saint-Germain received an offer of 300 million euros from Saudi Arabia, in order to abandon Mbappe. However, the latter's transfer to the Saudi League is unlikely. But the offer indicates the player's value in the transfer market.
Saint-Germain wrote a letter to his player, saying: "We have helped you and supported your family since your youth," imploring him to renew his contract and then move for a huge sum.
And Saint-Germain added in his message: "This is how all the great players like you left the club."
And if Mbappe does not sign a new contract, the French champions risk losing him for free within a year, so Saint-Germain could sell him this summer.
The move of the Qatar World Cup scorer came about a year after he ignored the efforts of Real Madrid, Spain, by signing a sudden extension of his contract in May 2022 to stay in the "Parc des Princes" for two seasons with an additional season, and there is a deadline for Mbappe to make his decision, which is on July 31. Therefore, Real Madrid will again be among the "near-seekers".
Mbappe and those close to him stated in a statement to "French Press" that the player had informed the "club management in charge of extending the contract" that was signed a year ago, starting on July 15, 2022, of his decision (not to extend beyond 2024).
The statement stated: "Kylian Mbappe did not ask to leave this summer; But he only confirmed to the club not to activate his additional year.
And Mbappe reaffirmed in mid-June that "staying" in Saint-Germain was "the only option": "I have already answered, and I said that my goal is to continue, and to stay in the club, it is my only option. I didn't think any message could kill or offend anyone.
And a source in the club confirmed that Mbappe is ready to stay on the reserve players' seats throughout the season, in the event that he is forced to do so.
Mbappe had played the Saint-Germain match against Le Havre, on Friday, and scored a goal in the match that ended with his team winning 2-0, before he officially received the news of his exclusion from the Asian tour.
Have both sides reached the point of no return? The coming days will be sufficient to answer this question.