A sit-in in the Tunisian parliament against Qatar agreement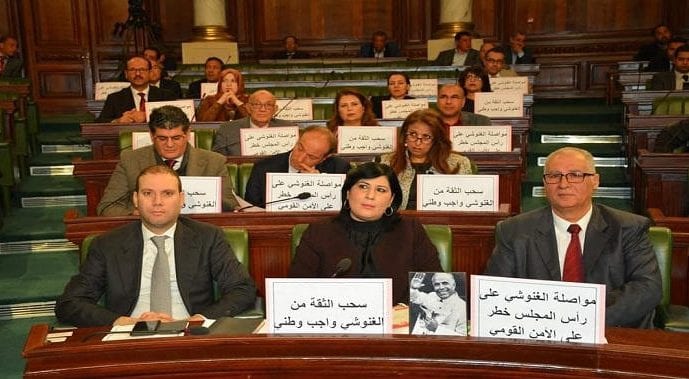 The Free Constitutional Party bloc announced a sit-in in the Tunisian parliament, denouncing an agreement between Tunisia and Qatar, considering it a "new colonialism."
It is expected that the Tunisian parliament will respond on the agreement tomorrow, Tuesday, amid widespread rejection within the parliamentary blocs of the agreement, including the Democratic Bloc (38 seats) and a number of independent representatives.
In a video posted on her official page, PDL leader Abir Moussi, said, "Her party's bloc is holding a sit-in on the platform of the Brotherhood's Sheikh, through which he wants to sell Tunisia."
She added, "Our demand is to delete the point of passing the Qatar Fund for Development headquarters agreement from the agenda of tomorrow's session,".
She added that the agreement to assign a headquarters to the Qatar Fund for Development is a contract of submission that does not respect national sovereignty and the interest of the Tunisian economy, explaining that the agreement will return Tunisia to the square of the state sponsor of money laundering and tax evasion, and the silence of the deputies is considered a participation in the crime of Brotherhood Sheikh, and making way for the colonization of Tunisia.
Last week, the Free Constitutional Party filed a judicial complaint against Parliament Speaker Rached Ghannouchi, accusing him of "fraud" due to "the agreement establishing the headquarters of the Qatar Fund for Development in Tunisia."
The party added, "In the face of Rached Ghannouchi's insistence on passing the suspicious agreement to satisfy the interlocutors to whom he owes allegiance using fraudulent official records, we filed a criminal complaint with the Public Prosecutor at the Court of First Instance in Tunis for fraud and deception against the Speaker of the Assembly of People's Representatives".