Abir Moussi faced violence from the Ghannouchi militia inside the Tunisian Parliament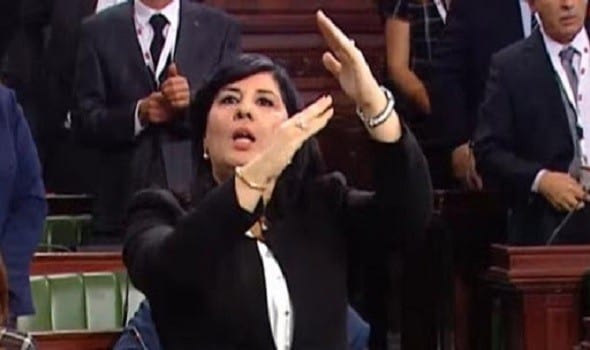 PDL leader Abir Moussi affirmed on Tuesday that she had been the victim of violence by several representatives of Al-Karama coalition and militias workingfor the leader of Ennahdha movement, Rached Ghannouchi, and the influence of the organization of the Fraternity.
Moussi said in a video clip that she was forcibly prevented from exercising her parliamentary activity, on instructions from the president of the Tunisian brotherhood.
The president of the PDL, criticized the silence of the deputies on what she called the "grievances" to which the free destourien party was exposed, for having revealed the circumstances of Ghannouchi's involvement in agendas hostile to Tunisian national security.
Moussi was barred from attending the House of Representatives bureau meeting last week after calling Ghannouchi a "sheikh of terrorism" and asking him to leave parliament as an agent of Muslim Brotherhood.
Moussi spoke on a live Facebook show that she was the victim of the assault in one of the halls of the Parliament building, referring to tireless efforts to silence her voice.
Abir Moussi condemned the harassment and threats faced by other representatives of the Free Destourien Party, in an attempt to obstruct their work in parliament.
Parliamentary sources reported that Rached Ghannouchi formed a 10-person team to attack and besiege MP Abir Moussi's movements in parliament.
On Tuesday, a session in the Tunisian parliament turned into a state of chaos, after members of the Free Destourien Party declared themselves threatened and harassed.
A number of PDL representatives lifted slogans from the papers and placed them in front of them, and denounced the empowerment of the International Union of Muslim Scholars to work in Tunisia. And these slogans were rejected by some deputies, while Moussi stressed his firm position vis-à-vis the Brotherhood.
In another context, the secretary general of parliamentary agents, Ahmed Massoudi, has just been suspended from his duties as a trade unionist, announces the information officer within the UGTT, Ghassen Ksibi.
As a reminder, Ahmed Massoudi broke into the parliament's hemicycle, thus breaking the internal rules of parliament. Security agents led him to the door, the first time, then he returned to provoke the Destourien Libre Party (PDL) deputies.
Following these actions, the PDL deputies asked the secretary general of the UGTT, Nouredine Taboubi, to intervene.
Left-wing MP Mongi Rahoui said this trade unionist was among those who were planted by the Ennahda movement in parliament under the union banner to defend Ghannouchi.