Abir Moussi: "I was beaten twice in the Tunisian Parliament"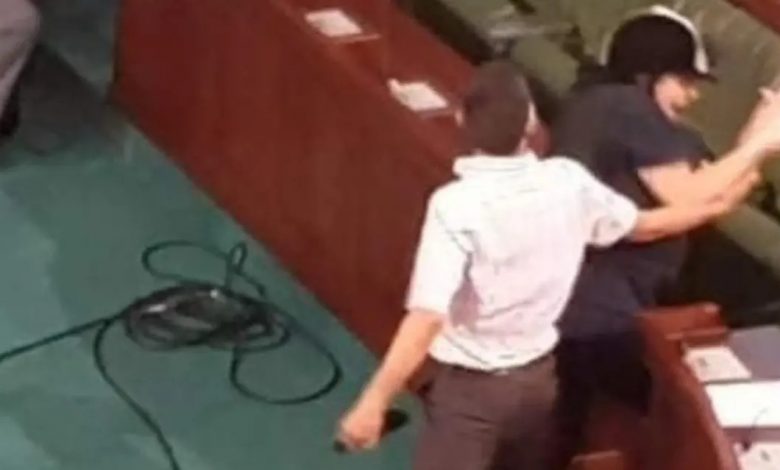 The attack on the president of the PDL (Free Destourien Party), Abir Moussi for the deputy elected on the Al Karama lists, Sahbi Smara, this Wednesday, June 30, 2021, within the ARP, aroused the indignation of the entire national scene, generating a broad wave of support in the face of this proven and unjustified violence against a member of the opposition.
The MP Abir Moussi was the victim of a new physical and verbal assault committed by Al Karama Coalition MPs including Seifeddine Makhlouf, Mohamed Affes and Abdellatif Aloui in parliament and in the presence of other deputies.
MP Sahbi Smara attacks President of the Free Destourian Party (PDL) group Abir Moussi.
A video published on social media shows MP Sahbi Smara (out of group) leaving his seat and heading towards Abir Moussi and hitting her in the face, causing chaos in the plenary hall.
The president of the session Samira Chaouachi asked MP Sahbi Smara to leave the session immediately.
The latter addressed misogynistic statements and insults to her, in addition to severe blows.
Political parties like Afek Tounes, Béni Watani and Machoû Tounes have issued statements of support, as has the parliamentary bloc of the National Reform. Members of Parliament also expressed their support for their colleague who was the victim of this heinous aggression.
In this context, we can cite the position of MP Samia Abbou – fierce opponent of Abir Moussi – who firmly denounced this violence.
Other national personalities like Bochra Bel Haj Hamida, Yosra Frawes, Mounir Charfi, Said Aïdi or even Saïda Garrach condemned what Abir Moussi had suffered by Sahbi Smara.
Saïda Garrach and many other personalities indicated that Sahbi Smara's act was premeditated and aimed to create a diversion from the serious and dangerous facts revealed during the press conference held this morning by the committee for the defense of the martyrs Chokri Belaid and Mohamed Brahmi.