Aboul Gheit: Arab Countries are Under Pressure from the West to Reject the Russian Move in Ukraine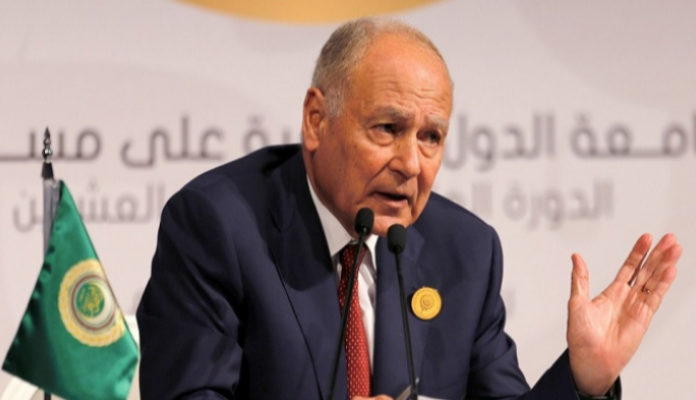 The Secretary-General of the League of Arab States, Ahmed Aboul Gheit, said that Arab countries are subject to what he described as pressure from the Western world to reject the Russian move against Ukraine.
Aboul Gheit added, "I hope that the Arab countries will succeed in maintaining their security, and that the Russian-Ukrainian conflict will not affect stability in the region."
Abul-Gheit added in a press interview that there is a unified Arab position on the Russian-Ukrainian crisis, noting that it does not appear on the horizon that the Russian-Ukrainian war will end soon.
war crimes
In a related context, Amnesty International on Monday accused Russia of committing war crimes in Ukraine, saying that the attacks on Kharkiv, many of which used banned cluster bombs, had killed hundreds of civilians.
In a report on Ukraine's second largest city, the human rights organization said that "the repeated bombing of residential neighborhoods in Kharkiv are indiscriminate attacks that have killed and injured hundreds of civilians and thus constitute war crimes."
"This applies to strikes carried out using cluster (munitions) as well as to those carried out using other types of unguided rockets and unguided artillery shells," she added.
"The continued use of such imprecise explosive weapons in populated civilian areas, knowing that they frequently cause large numbers of civilian casualties, may amount to directing attacks against the civilian population," it added.
Amnesty said it had uncovered evidence in Kharkiv of the repeated use by Russian forces of 9N210 and 9N235 cluster bombs and scattered landmines, all of which are prohibited by international agreements.
Cluster bombs release dozens of bomblets into the air, scattering them randomly over an area of ​​hundreds of square metres. Amnesty International said that the scattered landmines combine "the worst characteristics of cluster munitions and anti-personnel landmines".
"Anyone can die at any time"
The report, entitled "Anyone Can Die At Any Time", details how Russian forces began targeting civilian areas in Kharkiv on the first day of the Russian military operation on February 24 and how the "relentless" bombardment continued for two months, stating: Total destruction" in the city of 1.5 million people.
"The repeated use of widely banned cluster munitions is appalling and shows complete disregard for civilian lives," she added, stressing that "Russian forces responsible for these horrific attacks must be held accountable."
"People have been killed in their homes, in the streets, in stadiums, in cemeteries, while queuing for humanitarian aid or shopping for food and medicine," said Donatella Rovera, Senior Crisis Response Adviser at Amnesty International.
The military administration in Kharkiv told Amnesty International that 606 civilians had been killed and 1,248 injured in the area since the conflict began.
Russia and Ukraine are not parties to international agreements banning cluster munitions and antipersonnel mines. However, Amnesty International stressed that "international humanitarian law prohibits indiscriminate attacks and the use of weapons that are indiscriminate in nature.
And it stated that "launching indiscriminate attacks that lead to the death or injury of civilians, or damage to civilian objects, constitute war crimes."
The Ukrainian judiciary has opened more than 12,000 investigations into war crimes in the country since the start of the Russian military operation.
– 'Living without legs' –
Among the testimonies collected by Amnesty International is that of 53-year-old nurse Tetiana Agayeva who was standing at the entrance to the building where she lives, when several cluster bombs exploded on 15 April. "There was a sudden bang of firecrackers everywhere. I saw puffs of black smoke where the explosions occurred. We threw ourselves on the ground and tried to hide. Our neighbour's 16-year-old son was killed instantly," she said.
On March 12, Veronika Cherevichko lost her right leg when a Grad missile hit a playground outside her home. "I was sitting on a bench when the explosion happened. I remember hearing a whistling just before the explosion. Then I woke up in the hospital without my right leg," said the 30-year-old housewife.
The organization said that three people were killed and six wounded when a series of cluster munitions exploded in the same neighborhood on April 26.
Cancer survivor Olina Sorokina, 57, lost both her legs in the blast. She was sitting outside the building where she lives, waiting for humanitarian aid to arrive when she heard the sound of a shell flying and ran towards the entrance to the building. "After the battle with cancer, I now have to fight another battle to learn to live without legs," she said.
Amnesty International investigated 41 raids that left 62 dead and at least 196 injured. Members of the NGO spoke to 160 people in Kharkiv over 14 days in April and May, including attack survivors, relatives of victims and witnesses.
In May, Agence France-Presse collected testimonies in Kharkiv of residents terrified by Russian bombardment and witnessing massive destruction in the area.