Afghan chaos an opportunity for Iranian regime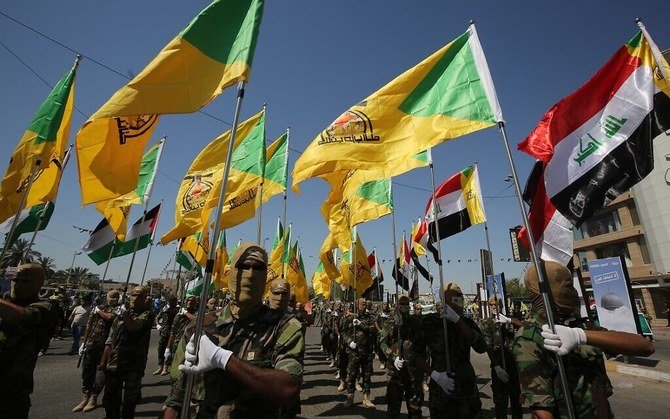 Chaos and instability in any country are invariably seen by the Iranian regime as an opportunity to interfere in the domestic affairs of that nation, expanding its influence and strengthening its defiance.
It is currently Iran's neighbor Afghanistan that is freefalling into chaos. Unfortunately, Tehran sees this through the prism of political opportunism rather than humanitarianism.
That is why Iranian leaders have applauded the Biden administration's decision to withdraw US forces from the country. Former Iranian Foreign Minister Javad Zarif characterized the US withdrawal as a positive action, while President Ebrahim Raisi described it as a defeat for Washington's Middle East policy that "must become an opportunity."
Iran's leaders will most likely pursue the same strategy they used in Lebanon, Syria and Iraq during the civil wars and instability in those countries. In the four decades since its establishment, the Iranian regime has become masterful at setting up powerful Shiite proxy groups in countries facing conflict or civil war.
In Lebanon, Tehran played a key role in the establishment of Hezbollah in 1982. Since then, Iran's financial, military, intelligence and logistical assistance have been crucial as the Islamic Revolutionary Guard Corps and its elite Quds Force transformed the militant group into one of Iran's most important and powerful proxies.
While Iran denies supporting Hezbollah militarily or financially, Hassan Nasrallah, the group's leader, has admitted that it receives full support from Tehran. "We are open about the fact that Hezbollah's budget, its income, its expenses, everything it eats and drinks, its weapons and rockets, come from Iran," he said in 2016.
In Iraq, during the years of civil strife following the US invasion of 2003, the Iranian regime helped develop proxy militias and, later, sponsored the Popular Mobilization Units — a conglomerate of more than 40 militias. After making the Iraqi militias work under one banner, Tehran pushed the Iraqi government into recognizing these units as one legitimate group, incorporating them into state apparatuses and allocating wages and ammunition to them. Through this approach, the Iranian regime is putting the financial burden on Iraqi taxpayers.
During the Syrian civil war, the Iranian regime strengthened its coalition of Shiite militias in the country, some of which came from Iraq, Pakistan, Afghanistan and Lebanon.
In Afghanistan, Tehran has used Afghan fighters from various militant groups formed during the Iran-Iraq War. But it was not until the Syrian civil war that the Iranian regime set up its first Afghan militia group, known as the Fatemiyoun Brigade or Hezbollah Afghanistan. The Fatemiyoun Brigade was made up of Afghan refugees living in Iran and Syria, including some that were facing criminal charges or deportation. Fighters were trained in Iran, given a salary of $800 per month and promised citizenship. There are about 3 million Afghan refugees, mostly Shiites, in Iran.
The Iranian regime has become masterful at setting up powerful Shiite proxy groups in countries facing conflict or civil war.

Dr. Majid Rafizadeh
The Iranian regime has even recruited child soldiers for the Fatemiyoun Brigade. According to Human Rights Watch, Iran's IRGC recruited "Afghan immigrant children living in Iran to fight in Syria." Children as young as 14 have fought for the Fatemiyoun Brigade in the Syrian conflict alongside government forces. Under international law, recruiting children under the age of 15 to take part in hostilities is a war crime. In 2019, the US designated the militia as a terrorist organization.
Iran's modus operandi is based on exploiting religion and using sectarianism as a powerful tool to gain power and further the regime's parochial, religious and political ambitions.
In Afghanistan, the Tehran regime will attempt to expand its influence by using the same model as in Lebanon, Syria and Iraq — setting up proxies and militia groups to act on its behalf.