Afghan National Resistance Front surrounded "thousands of terrorists" in the "Khawak corridor"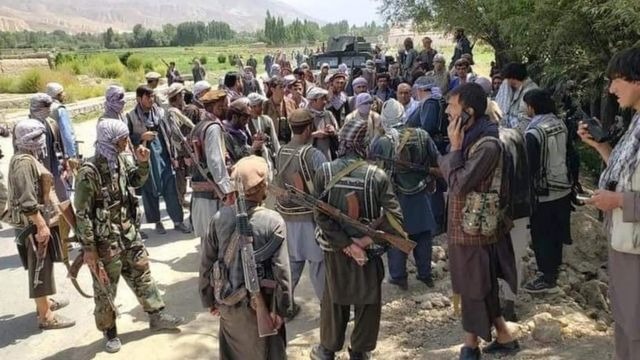 Reports coming from Afghanistan on Sunday reported renewed fighting between terrorists Taliban and opposition forces loyal to Ahmed Masoud for control of the Panjshir Valley, north of the capital, Kabul, while the Taliban announced that the new government formed by the movement in Afghanistan would be next week.
A spokesman for the Afghan Resistance Front said that Taliban elements managed to reach the heights of "Darband" on the border between Kapisa and Panjshir provinces, but they were repelled, stressing that the Afghan opposition forces will continue to defend the region.
While a source in the Taliban stated that the advance of the movement's elements towards Panjshir was slowed down because of the mines planted on the road leading to the capital, Bazark, and the compound of the provincial governor.
Ahmed Masoud with his gunmen in Panjshir Province
While Panjshir, the last Afghan province, has remained steadfast in the face of the militant movement, and according to "Reuters", both sides have claimed to control the affairs of Panjshir, but they are unable to provide conclusive evidence to substantiate these allegations.
According to Taliban spokesman Bilal Karimi, the movement managed to capture the Khanj and Annaba districts, giving its forces the ability to control 4 out of 7 districts in the province.
The terrorist Taliban were unable to control Panjshir during their previous rule of Afghanistan, from 1996 until 2001.
For its part, the Afghan National Resistance Front said that it surrounded "thousands of terrorists" in the "Khawak corridor", and that the Taliban abandoned their vehicles and equipment in the "Dashti Rawak" area.
The front's spokesman, Fahim Dashti, said that "violent clashes" were continuing in the area.
In a Facebook post, the front's leader, Ahmed Masoud, said Panjshir "continues to stand strong" against the movement.
Massoud praised the "honorable sisters", referring to the women's demonstrations that took place in the western city of Herat, demanding women's rights, which he believes showed that Afghans will not give up the demands of justice, and "that they do not fear any threats."